Frame Guidelines for Medical Certificate for Death: Human Rights Forum to TN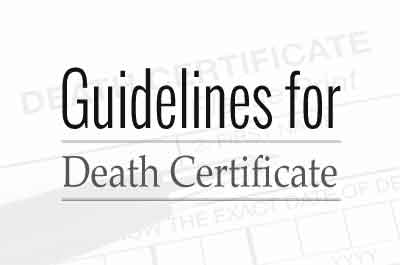 Coimbatore: In light of the harassment that people have to face at the time of burial or cremation of a dead person in case of natural death at home or other places than a hospital, the Coimbatore  Human Rights Forum was recently seen demanding the state government to frame guidelines with respect to the same.

The demand comes in light of the fact that at many crematoriums, the officials demand medical certificate of death by a registered practitioner to accept the body. However, doctors on other hand can issue medical certificate for patients only under their care at the time of death.

As per provisions laid down by the Indian Medical Council (Professional conduct, Etiquette and Ethics) Regulations, 2002, certificates are issued by doctors for the purpose of the Acts relating to birth, death or disposal of the dead.  The registered medical practitioner's primary responsibility is to complete the medical part of the certificate regarding all diseases, morbid conditions or injuries which either resulted in or contributed to death. This can only happen, if the patient is under the care of the hospital/doctor, who are then consequently aware of the medical condition of the patient

A. K. Ravikumar, chairman of private hospitals board of IMA in Coimbatore said that the medical practitioners body had issued a State wide circular not to issue the certificate for unknown patients and also in cases when person dies outside hospital - Form IV (a).

"If the person died outside the hospital, a doctor can issue a medical certificate of death if the deceased had consulted him/her within 15 days of the date of death. If the person dies in a hospital, medical certificate of death must be given in form IV," said Dr. Ravikumar to the Hindu , while welcoming the request for guidelines on the issue.

"Doctors refuse to give the medical certificate as they are afraid of landing in medico legal cases after the final rites. At the same time, people at crematorium demand medical certificate for the deceased. Though some doctors are willing to declare the death of the person, they omit the column where cause of death has to be mentioned. Considering these factors, CHRF has written to the government to set up guidelines for doctors and crematorium operators," V.P. Sarathy, chairperson of CHRF told the Hindu. He highlighted how middleman take advantage of such situations further adding to harassment of families, thus  demanding the state to frame proper guidelines for doctors and crematorium/burial officials.