Free health screening to start initially in 100 district: Nadda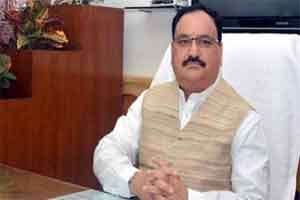 Shimla: A new health policy ensuring universal and comprehensive health care would be in place shortly and adequate funds would be provided to the states for its implementation, Union Minister J P Nadda said.
Speaking at the review meeting of state Health Department here, he said the government would start universal free health screening for six diseases, including hypertension and cancer.
Nadda said the government is taking care of two crore pregnant mothers every year by providing them free medical treatment in government hospitals and a mandatory provision has been made in the law to bind the doctors to prescribe only the generic medicines.
Emphasising the need to enhance communication with the patients, he said AIIMS would be set up soon in Bilaspur and also complimented the state for better health indicators in spite of topographic constraints.
State Health and Family Welfare Minister Kaul Singh Thakur said health indicators of Himachal Pradesh were better than other big states in the country.
Total fertility rate of the state is 1.7 against the national average of 2.3, infant mortality rate is 28 against 37 in India and below 5, child mortality rate is 33 against 43 at national level.
Thakur said currently the construction on 651 health institutions was in progress, out of which 117 buildings were complete. As many as 23 new civil hospitals, 36 community health centres, 103 primary health centres and 34 sub-centres were opened during last four years in the state, he added.
Thakur urged the Union Health Minister to sanction nine more trauma centres for the state.
He noted that the budget in National Health Mission was Rs 214 crore in 2013-14 which has now reduced to Rs 177 crore and pleaded for increasing the budget allocations for various programmes.