World Heaviest Woman Surgery Get Masked By Greed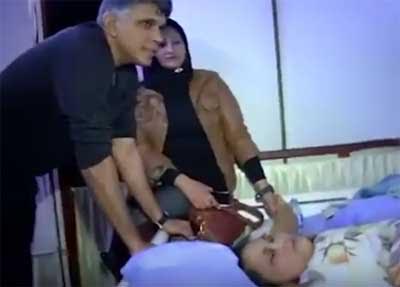 Mumbai: What started as a landmark operation, hailed across the world for its sheer effort, has now become a bundle of controversy for leading bariatric surgeon Dr Muffazal Lakdawala and his team at Saifee Hospital.
In a disturbing revelation, world's heaviest woman Eman Ahmed's sister Saimma Selim has alleged that Dr. Muffazal Lakdawala, who has been treating the former, is not correct about his updates about Eman's health and recovery, adding that her sister has not recovered at all. HT reports that Shaimaa Salim called surgeon Dr Muffazal Lakdawala and the hospital "liars" and claimed they had "put Eman on massive medication to stop her brain activity".
"Dr. Muffazal Lakdawala is a liar and is not giving right/factual updates about Eman's recovery. Eman has not recovered one bit," Saimma said.
Doctor's Response
However, when approached Dr. Lakdawala to know the other side of the story, he denied all the allegations leveled against him by Saimma.
In fact, the doctor said that Eman is doing well and a CT scan is to be done to ascertain her neurological condition.
Turning the tables, the doctor also said that Saimma is creating a scene because she does not want to take her sister back to Egypt due to financial reasons.
"Eman is fine and is doing good. She has recovered well and only a CT scan is to be done to ascertain her neurological condition.
Actually, Everything was right with Saimma for initial 15 days after Eman's treatment started but when she recovered and we suggested that she can be taken back to Egypt, Saimma started to create all this drama as she doesn't want to take her sister back to Egypt due to financial reasons," he told ANI.
Officials from Saifee Hospital said they have spent more than Rs 2 crore on Eman's travel, treatment and surgery and separately collected more money through donations around the world.
Lakdawala informed HT they have already spoken to Counsel General Mr. Ahmad Khalil and HE The Ambassador Mr Hatem Tageldin about allaying the anxiety and fears of the sister Shaimaa in these difficult times.
"It's my worst nightmare. Not a single hospital or doctor was ready to treat Eman and now when she has lost so much weight, the family is raising questions on a consolidated humanitarian effort, which has saved her life," said Lakdawala.
The doctor also said they would be moving Eman from her ward to the CT scan room where one can see the stark difference between what Saimma is claiming and what the reality is.
Core Team Member Announces " Resignation"
Reacting to the accusations that were made by the patient's kin, Dr Aparna Govil Bhasker, section chief of Bariatric Surgery at the Saifee Hospital has announced her resignation from the care of the patient with immediate effect on Social Media.
" We put our heart and soul into her care. No stones were left unturned. The team of doctors, nurses and physiotherapists toiled day in and day out to make this one patient live. We didn't just provide medical care, we fell in love with Eman. She became our obsession. Even my 3 year old son made peace with the fact that in his mother's life at the moment Eman aunty takes precedence ," her post highlighted
"Unfortunately Eman's case is an example of the worst kind of assault that a patient's family can do to a doctor.......What her sister has done is worse than physically assaulting a doctor. She has broken the bond of trust between doctors and patients. I am appalled at the irony that today when Eman's health is the best that it has ever been in last 25 years, her sister chooses to go down this path."
"I protest against any kind of assault on doctors and I reserve the right to refuse. I believe that if a patient or her family does not have faith in her doctors or hospital then they must look for an alternative. It should also be an example to younger doctors that you do not have to take things lying down," her Facebook post stated
Earlier on April 21, 36-year-old Egyptian Eman Ahmed, who was the heaviest woman in the world at 500-plus kg until a few months ago, had lost 250kg in two months after undergoing surgery here at Saifee Hospital.
"Eman has done miraculously well. We actually didn't expect her to do this well because we had estimated that in six odd months she would lose around 200 kg," Dr. Muffazal Lakdawala, obesity surgeon told ANI.
"The weight loss has also dramatically improved her health. Eman's heart, kidneys and lungs are functioning better and her water retention levels are also under control," said the doctor.
Shedding light on the challenges he and his team faced, Dr. Lakdawala said, "More than a challenge, we took it as a humanitarian cause. We just couldn't see her lying like that, so helpless, simply waiting for death to come. The risks of this case were 99%. I think now, we have given her a chance to live. If she gets physiotherapy done properly and wants to be able to walk, Eman will have to put in the efforts."
"We'll now weigh her after three-four weeks and are hoping she'll come under the 200 kg mark. She is a fighter and she has a will to fight this," he added.
Read also: Rare genetic defect cause obesity of Eman