Gandhi Hospital: Doctors Chant Maha Mrutyunjaya Jaap, Minister Orders Inquiry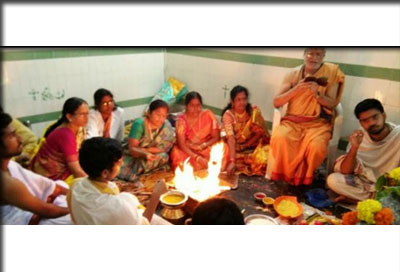 Hyderabad: Facing flak for numerous deaths that have taken place in the maternity ward over the last few months, the doctors of the 150 year old premier Gandhi Hospital were recently seen performing a four-hour Mrutyunjaya Jaap and homam (havan or holy fire),  for the welfare of expecting mothers and their babies coming to the doctors
However, the senior doctors and participating staff soon faced even more flak on the issue, after outraged patients came alleging that doctors were falling back on religious rituals, instead of focusing on appropriate treatment to patients.
Responding to the negative coverage in the media on the issue, the Telangana Health and Medical Department said it has ordered an inquiry into conducting of puja and homam (holy fire) in the state-run Gandhi Hospital here. Ramesh Reddy, Director of Medical Education, Telangana said an inquiry has been ordered.
 "The superintendent of the hospital has been asked to conduct the inquiry. We are very clear that any such activity should not happen anywhere near the patient care facilities including wards.
"If it is conducted outside the hospital premises, then it is fine. But if it is done (as per media reports) near gynaecology department in the hospital or near patients and caused disturbance to them, then it is a problem," Reddy told PTI.
Gandhi Hospital deputy superintendent N Narasimha Rao said they would never encourage such practices in the hospital and a committee has been appointed to look into the issue.He said there was no permission to conduct such activities in the hospital and action will be taken based on the report.
Meanwhile Doctors also dismissed allegations that taxpayer's money was wasted in the havan to prevent baby deaths, saying it was self-sponsored by the medical staff.
Hari Anupama, who heads obstetrics and gynaecology, told HT: "A few nurses, Class IV employees, a few patients and I participated. We collected the money, voluntary donation. Also, it happened outside in the corridor, not in the ward."