Ganga Ram hospital celebrates green Diwali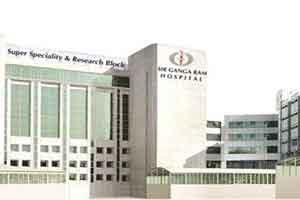 New Delhi:  A city-based hospital lit up its buildings in green to send out a message of protecting the environment this Diwali.
From the main administrative block to emergency wards, the Sir Ganga Ram Hospital (SGRH) was bathed in a verdant shade offering a delightful sight to both patients and visitors.
"Our hospital has taken many initiatives in last few months to help the cause of environment and help tackle the pollution in Delhi," said Dr D S Rana, Chairman (Board of Management), SGRH.
He said the decision to illuminate the buildings in green was taken to take forward the cause of environment.
"For conservation of water through rainwater harvesting, the hospital has reduced the need for water tankers from 40 per day to 8-10 tankers. Also, the hospital has been made mercury-free," he said.
Rana added that as a gesture, this year all staff and doctors of the hospital, "have taken pledge to help in pollution control and also to donate their organs."