Nitrous oxide cryoballoon ablation effective treatment of duodenal adenomas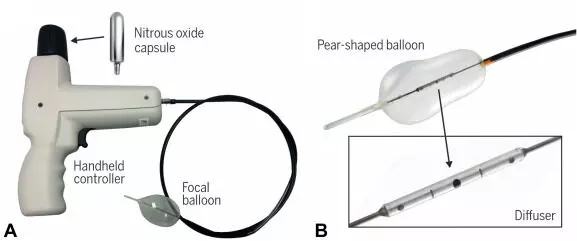 Endoscopic cryotherapy was first used for the treatment of Barrett's esophagus and the indications for its use in other GI disorders are expanding. Nitrous oxide cryoballoon ablation of nonpolypoid duodenal adenomas (DAs) is feasible suggests a study published in the Gastrointestinal Endoscopy.

EMR is the preferred endoscopic therapy for duodenal adenomas (DAs) but is associated with an overall adverse event rate of 26%. For most nonampullary duodenal adenomas, EMR is effective, but it carries a somewhat alarming rate of adverse events, particularly for larger lesions >2 cm. These include immediate bleeding (43%), delayed bleeding (15%-26%), and perforation (4%). The rich vascular supply, thin wall, fixed nature, and angulation of the duodenum all contribute to these risks. Cryotherapy using a Cryoballoon Focal Ablation System (CbFAS) can safely and effectively eradicate esophageal intestinal metaplasia. However, its effect on duodenal adenomas remains unclear. For this purpose, researchers conducted a study to investigate the safety and efficacy of nitrous oxide cryoballoon for the treatment of flat duodenal adenomas and reported their evidence.
It was an American population-based, multicenter, retrospective study in 13 patients with 17 DAs, 4 of which were treatment-naive, who underwent treatment with CbFAS and then were followed for 15.5 months at 5 study centers. Researchers treated DAs (Paris 0-IIa and 0-IIb) with nitrous oxide for 5 to 12 seconds using CbFAS.
Key findings of the study were:
♦All procedures were successfully performed and the researchers observed more than 50% decrease in size of the lesion after cryoballoon ablation with no increase in size or progression of the disease for any lesions.
♦They noted that the median cryoablation time per polyp was 4 minutes, and the median total procedure time was 25 minutes.
♦They reported that treatment was completed in 15 of 17 patients, and after a median follow-up of 15.5 months, they found that recurrence-free survival rate was achieved in 71% of patient.
♦They observed no adverse event during intra- and postprocedural period.
The authors concluded, "Nitrous oxide cryoballoon ablation of nonpolypoid DAs is feasible, with promising safety and efficacy".
For further information:
https://www.giejournal.org/article/S0016-5107(20)34398-4/fulltext#%20
Article Source :
Gastrointestinal Endoscopy