Severity of liver fibrosis predictor of CVD in type 2 diabetes: Study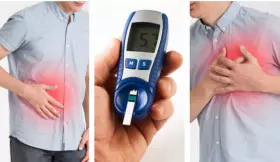 Cardiovascular disease (CVD) is the principal cause of death in patients with type 2 diabetes (T2D). In a recent study, researchers have reported the severity of liver fibrosis independently predicted CVD in patients with T2D. The study findings are published in the Journal of Gasteroenterolgy and Hepatology on December 28, 2020.

According to the World Health Organization, cardiovascular disease (CVD) remains the leading cause of death worldwide, accounting for approximately 18 million deaths per year. Nevertheless, the worldwide prevalence of metabolic diseases, such as type 2 diabetes mellitus, obesity, and non-alcoholic fatty liver disease (NAFLD), also known to be common risk factors for CVD, has dramatically increased over the last decades. Compared with nondiabetic subjects, people with type 2 diabetes appear to have an increased risk of developing NAFLD and certainly have a higher risk of developing fibrosis and cirrhosis. Several mechanisms have been suggested to be responsible for associating FLD with CVD through several mechanisms including low-grade systemic inflammation, oxidative stress, adipokines, endoplasmic reticulum stress, lipotoxicity and microbiota dysbiosis which may also be influenced by other factors such as genetic and epigenetic variations. Despite all this evidence, the association of Liver fibrosis and CVD in T2D patients are not fully elucidated and much remains unknown. For this purpose, researchers of the Yonsei University College of Medicine, Seoul, Republic of Korea, conducted a study to assess whether liver fibrosis predicted the risk of CVD in patients with T2D.
It was a retrospective observational study of 1,481 patients who had commenced oral anti‐diabetic drugs to treat newly diagnosed T2D between 2006 and 2010. Researchers used the fibrosis‐4 index (FIB‐4), non‐alcoholic fatty liver disease fibrosis score (NFS), and BARD score to assess the fibrotic burden at the time of T2D diagnosis.
Key findings of the study were:
♦Researchers noted 242 (16.3%) patients developed CVD during the follow‐up period of median 88.1 months.
♦They noticed CVD occurrence was frequently in older patients and was associated with hypertension; metabolic syndrome; obesity; smoking; administration of statin, lower platelet counts; lower alanine aminotransferase, total cholesterol, and HbA1c levels; higher C‐peptide and homeostatic model assessment of insulin resistance levels; higher FIB‐4, NFS, and BARD score.
♦They found FIB‐4 (hazard ratio [HR]=1.163), NFS (HR=1.322), BARD score (HR=1.564), metabolic syndrome (HR=1.556), smoking (HR=2.829), and statin use (HR=0.603) were independent predictor of the risk of CVD.
♦They also noted a cumulative incidence of CVD was significantly different among groups stratified by liver fibrotic burden.
♦Upon competing risk analysis, they found a significant association between the severity of liver fibrosis and CVD development.
The authors concluded, "The severity of liver fibrosis independently predicted CVD in patients with T2D. Thus, assessment of liver fibrosis might allow physicians to optimize the timing of appropriate cardiovascular interventions in such patients".
For further information:
DOI: https://doi.org/10.1111/jgh.15387
Article Source :
Journal of Gasteroenterolgy and Hepatology