God's gift: Newborn brings out mother from comatose state in Kerala Hospital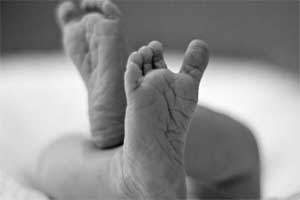 Vazhoor: A newborn baby seems to be bringing his 28-year old mother out of comatose state into which she had slipped in the third month of pregnancy as she is showing signs of improvement since beginning breastfeeding.
Bettena has slowly started reacting to the baby's cries and gurgles, a doctor who is attending on her at a private hospital here said today.
After the baby's birth on June 14, changes were noticed in her. She has shown improvement from her neurologically challenged state particularly after starting breastfeeding the child, Dr R Vivek, Head of the Department of Emergency Medicine and Intensive care at the hospital, said.
She turns on hearing the baby cry and tears well up in her eyes, her husband, Anoop, hailing from Vazhoor in Kottayam district said.
"After our child was born through a caesarean operation on June 14, there has been immense change in Bettena's condition, who fell seriously ill and slipped into coma in January this year," he told PTI.
"When the baby, Elvin, is held for her to breastfeed, the joy in her face gives us courage to continue our battle to bring her back to normalcy," he added.
Bettena was brought to the private hospital in the first week of January in a critical state when she was three months pregnant, the doctor said.
She had acute brain damage and was in an "unresponsive state" showing oxygen desaturation, respiratory distress and had dilated pupils, Vivek said.
"I have never handled such a situation with a patient who was pregnant," he added.
Describing the baby as 'God's gift', Anoop said he was hopeful that his wife would recover fully.
The doctors are optimistic that with aggressive physiotherapy and other treatment, the woman would improve and return to normalcy.