Good Doctor Patient relationship necessary to reduce Violence Against Doctors: Experts at IIM-A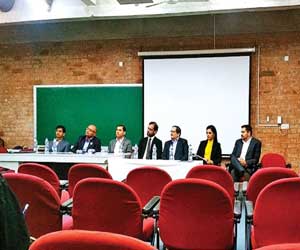 Ahmedabad: The violence against medical professionals on the field have grown so drastically that doctors are together sitting down to figure out how to tackle this growing evil. In a recent discussion organised by Indian Institute of Management, Ahmedabad's (IIM-A) Centre for Management of Health Services (CMHS) on various domains of 'Violence Against Doctors', the experts were seen discussing the topic in details.
According to the analysis provided by the participating members in the discussion, the doctors, irrelevant of being in Government service or practicing in private, face violence at some point or the other.
Jayesh Lele, the national secretary of Indian Medical Association's (IMA) informed that around 55 to 60 percent of resident doctors at government hospitals face violence as compared to the 30 to 40 percent private doctors facing violence.
Read Also: Prevention of Violence against Doctors Bill Tabled in parliament
The panel while discussing the cause of the issue, came to the point where they marked 'Communication Gap' between doctors and patients as one of the major reasons for the growing incidence of violence against doctors.
Discussing about the other reasons regarding the issue, Dr Bharat Gadhvi, regional director, HCG Hospitals Gujarat, took a dig on the recent order issued on doctor-patient relationship, he told
DNA
, "There are a couple of reasons for increase in such incidents that include the recent order declaring doctor-patient relation as that of a consumer-service provider. Another reason is lack of clarity related to post-mortem. There is no availability of pathological post-mortem. Communication and counselling is also the key."
The experts present in the discussion put forward their points for the solution to this epidemic matter.
Manoj Sashidhar, Inspector General of Police, Panchmahal range, Godhra, informed the Indian Express, "We can find ways to reduce doctors facing violence only when we have diagnosed the issue. For instance, in a hospital which spots are the most susceptible to violence against doctors — trauma centres or operation theatres. Only when we have diagnosed this will we be able to design hospitals in a way that reduces friction between doctors and patients."
As a token of recommendation to MCI, advocate Harsh Rawal  told DNA, "Like we have moot-court events where law students have to face the entire judicial set-up and argue to understand the real situation in courts, even MCI should make demonstrations of aggressive incidents a part of the medical syllabus."