Govt owned ambulances not to carry CM's photo in Punjab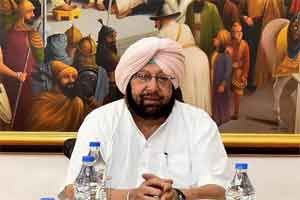 Chandigarh: Punjab Chief Minister Amarinder Singh asked state officials to ensure that his photographs are not carried on government-owned ambulances.
In the previous SAD-BJP regime, these ambulances carried the pictures of the then chief minister Prakash Singh Badal.
Two years ago the Comptroller and Auditor General (CAG) rapped the Punjab government for foregoing central grants under the National Rural Health Mission (NRHM) on account of its refusal to remove Badal's pictures from the emergency ambulances, an official spokesperson said.
In its 2015 report, the CAG had said that Punjab had lost out Rs 23.8 crore of central grant for ambulances over three fiscals from 2012 for not following a prescribed colour code of the NRHM, he added.
Amarinder Singh directed officials here that a fresh notification should be issued to ensure that chief minister's pictures are not carried on the ambulances, the spokesperson said.
Chief Minister Singh's pictures were not put on these ambulances. He had made it clear that he wanted to ensure that the ambulances align completely to the NRHM rules, the spokesperson said.
The move to remove the chief minister's picture from government-owned ambulances follows a series of initiatives taken by the Punjab government to wipe out VVIP culture, the spokesperson added.