Delhi: GTB machine breakdown depriving cancer patients of treatment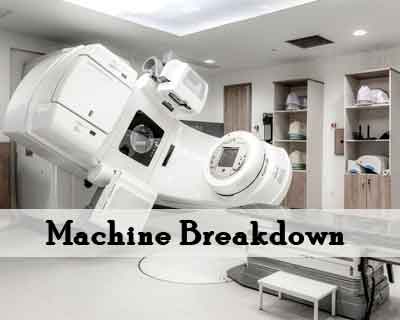 Delhi:The
Guru Tegh Bahadur Hospital
(GTB), is unable to gives  cancer patients their radio therapy treatments  due to the breakdown of its sole simulator machine. The patients, primarily who come from low income groups are having to go without treatment due to this. The hospital is located in Dilshad garden Delhi.
Radiotherapy sessions are being missed by many  cancer patients and there is no surety about the next appointment in the face of machine breakdown
.
"The problem started three months ago," said Komal, the daughter of Kuljeet Kaur, a breast cancer patient. Kuljeet was diagnosed with cancer earlier this year and was operated on February 13.
"She had three rounds of chemotherapy at the Delhi State Cancer Institute. They then referred us to GTB Hospital for radiotherapy and here we were told that the machine isn't working. Worse they referred us to PGI, Chandigarh, for the therapy. We don't have the financial support to go to Chandigarh for the treatment. Private hospitals are beyond our means. So we are simply waiting and praying that my mother gets timely treatment," said Komal.
Ashok Aggarwal, the advocate who has taken up the cause of these patients has addressed the problem to Delhi Health Minister, Satyendra Jain in a written appeal. He has stated that  the lone simulator machine installed at  GTB Hospital has not been working for more than three months, putting at risk the treatment of hundreds of poor cancer patients referred by Delhi State Cancer Institute.
"The patients are being advised to go to Chandigarh which is not possible for them. They have begun to panic. The government has to take up the matter urgently. The poor have the same right to treatment and medical care as a rich patient who can buy it at a private institute," stated Mr. Aggarwal.
The GTB hospital authorities however have assured quick rectification. The hospital authorities say that the matter is being looked into and amends will be made at the earliest.