Gujarat Doctor SHOT by husband of deceased patient who died during C section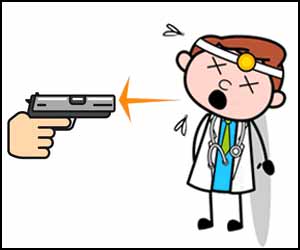 Ahmedabad: In a shocking incident, city-based Ayurveda doctor, Dr Mukesh Prajapati was shot at by a young man, who blamed the practitioner for the death of his spouse following C Section that was carried out at the doctor's multispecialty hospital in Odhava.
With a feeling of revenge, the husband of the deceased patient openly shot at Dr Prajapati in the broad daylight. However, the doctor was lucky enough not to lose his life although his left shoulder got fractured.
The incident took place on October 21 (Monday) at Rabari Vasahat Crossroads when Dr Prajapati was returning home on his two-wheeler from a nearby ATM. On his way, the doctor parked his vehicle by the road to receive a phone call. Suddenly, he heard a loud gunshot followed by a sharp pain in his left arm that was bleeding badly.
Also Read: Karnal: Renowed Doctor, Hospital Owner shot dead by Miscreants on Bike
The doctor looked around and when he saw the patient's kin pass by on his motorbike with a pistol in his hand, he realised that he has been shot. Dr Prajapati moved a complaint of an attempt to murder with Odhava police.
Also Read: UP: Saifai Medical University MBBS doctor SHOT, Colleagues in PROTEST
In his statement, the medical practitioner identified the man who shot at him, stating that he brought his spouse at his hospital last year. The patient underwent complications during her pregnancy and was advised to have a C-Section delivery. As per a recent media report in TOI, the patient was operated by gynaecologist working at Dr Prajapati's hospital. However, soon after delivery, the patient's condition deteriorated and she was treated in two other hospitals including Ahmedabad Civil before she succumbed to infection.
The doctor alleged that the deceased's kin blamed him for the patient's death over medical negligence and therefore he shot at him from behind attempting to kill him.
Dr Prajapati was treated for a fractured left shoulder and a bullet was retrieved at Narayan Multispeciality Hospital post the attack. An FIR was filed on the basis of a Medico-legal case (MLC), registered at the Narayan hospital.
Commenting on the matter, PI RG Jadeja of Odhav police station told Ahmedabad Mirror, "Investigation is underway and we will soon arrest the accused."