Gujarat: Fire breaks out in Paediatric Hospital building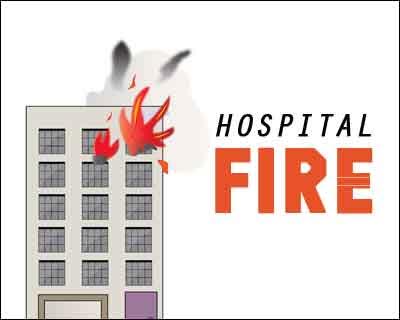 It was because of sheer negligence that the fire broke out. Many commercial LPG cylinders were kept in the canteen area on the terrace
Ahmedabad: A fire recently broke out in a four-storey building housing a paediatric hospital in Ahmedabad city of Gujarat on Monday.
Informing PTI about the incident, an official said that no casualty was reported in the mishap.
The blaze erupted in a fibre shed on the terrace of the Dev Complex building, that has a children's hospital on the fourth floor, in the Parimal Garden area here, the fire official said.
All the patients, mostly newborns admitted in the Apple Children Multi-Speciality Hospital, were evacuated safely, he said.
"A fibre shed in the building caught fire, resulting in a lot of smoke in the premises. Two fire-fighting vehicles and four water tankers were rushed to the spot and the blaze was controlled in 15 minutes," Ahmedabad civic body's chief fire officer M F Dastur said.
"We received information around 12.50 pm regarding the fire at a four-storey building in Parimal garden, and three fire tenders reached the spot in the next 10 minutes," Additional Chief Fire Officer (Ahmedabad) Rajesh Bhatt told The Indian Express.
He said the fire seems to have started after a gas cylinder exploded on the terrace of the building where the canteen is located. The flames quickly spread to the fibre shed of the canteen's roof.
"It was because of sheer negligence that the fire broke out. Many commercial LPG cylinders were kept in the canteen area on the terrace," he added, saying it would be investigated whether due permission had been obtained to store commercial gas cylinders in the building.
Read Also: HC asks Municipal Corporation to seal hospitals not having fire dept's NOC
Earlier, Medical Dialogues had reported about major fire broke out in a medical shop in the Rajasthan's SMS Hospital premises on May 10th morning following which the hospital administration shifted 125 patients to another ward.
While hospital and fire officials said there was no loss of life in the fire incident, family members of a patient who died early morning alleged that smoke and suffocation caused his death.12 fire tenders doused the fire in four hours. The fire apparently broke out due to short circuit.
Read Also: Rajasthan: Fire breaks out in SMS Hospital