Gurgaon: Govt hospital gets its first dialysis facility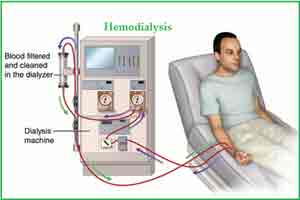 A four bedded dialysis facility is now functioning in the Govt hospital in Gurgaon.

The civil hospital in sector 10 of Gurgaon will get the first dialysis facility in a Govt healthcare unit. This is being done by the district administration in order to reduce the dependence of patients on private care units, as also to make the services more affordable.

The initiative by the district administration is in collaboration with corporate DLF in view to attend to the 80% decadal growth in city population being witnessed.

This world class dialysis centre aims to care to 10,000 patients every year. The facilities will provide services at the rate of 800-1000 in comparison to 1800 charged by the private hospitals.

Massive infrastructure investment has been made to set up the dialysis area, which will be spread across 500 square built up. An estimated amount of Rs. 48,00,000 will be spent on setting up the facility.

In addition, it has been further informed that the project is proposed to be a joint venture with OBC, District Innovative Fund and Sheetla Mata Shrine Board. While DLF Foundation will provide about 50% funds, Artemis hospital will be the technical partner and help impart manpower training, as confirmed by TOI.

"The city needs health facilities very badly, for the simple reason being that the population of Gurgaon is growing at 80% decadal growth rate. I am very happy that DLF has come forward to provide world class dialysis centre, which will provide facilities to more than 10,000 people every year. It is heartening to see DLF's contribution in this CSR venture," said Deputy Commissioner T L Satyaprakash.

"There is a need to ensure that all sections of the society, including the underprivileged gets access to world-class health facilities and treatment. The dialysis center at Civil Hospital is just another leap," feels Vijay Sahani from DLF Foundation.

Shortage of doctors and medical staff in the city continues to remain a critical issue for development of the healthcare infrastructure in the city. A doctor at Civil Hospital has implied in his statement that there has been a growing interest from companies to donate machines and build infrastructure in the government hospitals. However, the administration is still struggling to hire doctors, lab technicians and nurses.