Haryana: Doctors to get Rs 1000 for postmortem, up from Rs 10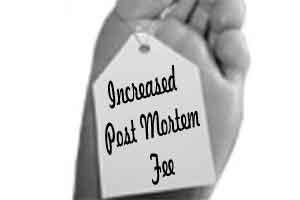 Chandigarh: Government doctors in Haryana will now be given Rs 1,000 for performing post-mortem, marking a huge jump from the meagre Rs 10 they used to get till now.

"Now doctors and their assistants of Class IV, shall be given Rs 1,000 and Rs 500, respectively, for performing post-mortem in hospitals," Haryana Health Minister Anil Vij said.

Till now, they have been getting Rs 10 and Re one per post-mortem.

This decision was taken in a review meeting of Health and Medical Education Departments presided over by Vij here, an official release said.

Vij said all hospitals shall soon be made online under e-Upchar system.

So far, the complete record of patients of nine district hospitals, a Community Health Centre, a Primary Health Centre, a AYUSH hospital, a Medical Colleges at Khanpur and Nalhar, have been made online, he said.

The record of patients taking treatment in these hospitals would also be available online in other hospitals too for their treatment.