Haryana Government making efforts to improve doc to people ratio, says Vij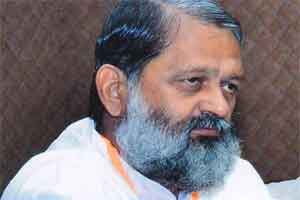 Gurugram: Haryana Health Minister Anil Vij said the government to strengthen health services in the state was making concerted efforts to improve the doctor to people ratio.
The state aims to have one doctor for every 1,000 people against the present one doctor for every 1,700 people ratio, he said during a session on 'Health, Education and Sports - Improving Indicators: Moving in Right Direction' at Pravasi Haryana Divas-2017 here.


The Minister urged 'Pravasi Haryanvis' to deepen their connection with their roots by investing in the health and education sectors of the state.

Appreciating efforts taken by the private sector to develop education and health in Haryana, he said the state government's efforts in these sectors were yielding positive results.

He said there has been 20 per cent increase in number of patients availing OPD facility and the sex-ratio at birth of the state has crossed the 900 females per 1,000 male mark.

Work to provide MRI and dialysis facilities in all districts has been started and catheterisation laboratories are being established in four districts as part of a pilot project, Vij said.