Haryana: Only 57 percent Doctors available on Duty says study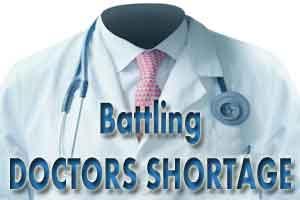 Rohtak: A recent internal survey of the health department conducted by the Haryana Civil Medical Services (HCMS) Association revealed  sad state of healthcare as well as the casual attitude appointed by many healthcare professionals working with the state civil hospitals.
 As the survey disclosed,  approximately  43%  of doctors in Haryana civil hospitals have been absent from their duties.  With this high rate, indeed the unwanted absenteeism is hitting the healthcare services in the state.
According to the study, only 1,769 civil surgeons are working for the patients over the sanctioned posts of 3,228. The rest of the doctors are on long leave or have gone on to pursue PG courses, or are on deputation or have resigned.
The diminishing state of healthcare professionals has also hit the specialists at these civil hospitals, where out of 794 posts, only 620 are actually working in the state. Out of these 620 working doctors, only 552  are on active medical duty, while the remaining hold administrative positions in the department.
The survey has also revealed that, the state is not just struggling with the shortage of doctors, but an acute shortage of institutions such as  primary as well as community health centres (PHCs and CHCs). For 165 CHCs required, the state has only 119, and as against the required 550 PHCs, the state has only 486.
Speaking with the HT,  Dr Sheel Pajni, the vice-president of the HCMS association, informed, "These figures are just on papers. The actual reality will be even worse. The government has not revised the cadre as per the increasing population, due to which the doctors are flooded with patients. We are not able to give quality treatment to anyone."
As per the survey conducting organisation, the prime reason behind the worst condition of the healthcare in the state is "Low Salary" as well as  government's unwillingness to  give good salaries to specialist doctors.
Dr Pajni said, "No one wants to join the services in Haryana because they can get more money in private hospitals or in other states."