Haryana to bring Clinical Establishments Act through ordinance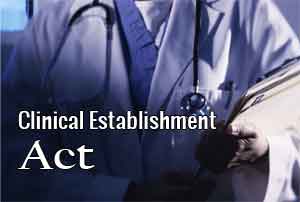 Chandigarh:  The Haryana government decided to promulgate an ordinance for adopting the Clinical Establishments (Registration and Regulation) Act in the state.
Finance Minister Abhimanyu told reporters that the decision was taken at a meeting of the state cabinet, chaired by Chief Minister Manohar Lal Khattar here, as the state did not have a piece of legislation to regulate and register clinical establishments.
The proposed legislation will cover the clinical establishments having more than 50 beds, he said.
The effective implementation of the legislation will ensure that clinical establishments in the state adopt ethical medical practices in treatment and patient care.
"Effective action can be taken against clinical establishments indulging in fraudulent or unethical practices under the Clinical Establishments (Registration and Regulation) Act, 2010. The Act will also ensure quality care and treatment to the patients at fair and affordable price," he said.
Health Minister Anil Vij had earlier said that the Clinical Establishment Act, enacted by Parliament, would also help check overcharging by private hospitals in the state.
"In the name of treatment, many private hospitals in the state are overcharging patients due to which the common man has to undergo mental as well as physical agony. The Act would play an important role in checking this trend," Vij said.
Medical Dialogues team had earlier reported that Haryana Health Minister Anil Vij said the state government would soon implement Clinical Establishment Act in the state.
He said all preparations regarding the implementation of this Act have been completed. Under this Act, first registration would be done, and after this, one Body would be formed to determine norms for the establishment of the hospital. He said strict actions would be taken to any hospital violating this Act.
Read also: Haryana to implement Clinical Establishment Act soon