................................ Advertisement ................................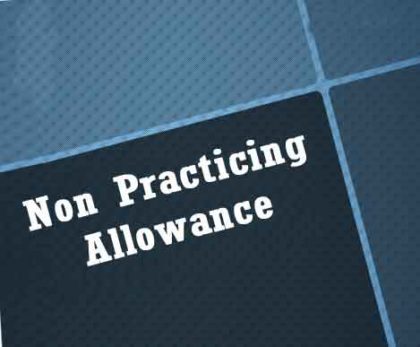 Chandigarh: The Haryana Government decided to adopt the allocation of Non Practicing Allowance (NPA) to the medical practitioners at a new rate of 20 percent. This has been made effective from May 1, 2018. This is the same percentage of NPA that has been put forward by the recommendation of seventh pay commission.
The NPA will be applicable on Medical Officer, Assistant Medical Officer, Senior Medical Officer, Dental Surgeon and Director of ESI Health Care Department.
The Finance Minister, Captain Abhmanyu informed that Chief Minister Manohar Lal Khattar has approved a proposal in this regard, reports PTI.
................................ Advertisement ................................
The finance minister informed that the decision would benefit beneficiaries in the State. The annual financial liability on account of this revision would be over Rs 4.21 crore.
Those who will be eligible for this allowance include government employee posted against a clinical post and actually working there, government employee posted against a whole time post and government employee in whose case there is ample scope of undertaking private practice, reports the TOI.
................................ Advertisement ................................
This allowance would admissible only in such cases and circumstances where it is necessary to prohibit private practice in public interest. The sum of the pay+NPA should not exceed Rs 2, 24,550 per month.
The non-practising allowance is a special kind of allowance for medical professionals occupying the posts in medical services. It is a percentage based allowance. While implementing 7th Pay Commission's recommendations Govt also decided that NPA is payable at the rate of 20% of basic pay.
The Medical dialogues team earlier reported that an association of doctors in Uttar Pradesh demanded immediate payment of a non-practising allowance in accordance with the recommendations of the seventh pay commission.
Read Also: Pay NPA as per 7th Pay commission: UP doctors submit Memorandum to Govt
The Medical Dialogues reported that the SGPGI faculty launched a protest demanding their medical allowances to be upgraded according to the seventh pay commission in parity with AIIMS, New Delhi.
Read Also: 7th Pay commission: SGPGI Faculty demand Equal Allowance, Pay parity with AIIMS
Shagufta Joined Medical Dialogues has been associated as Editor for Education Medical Dialogues since the year 2018.  She is a graduate from Delhi University. She can be contacted at editorial@medicaldialogues.in Contact no. 011-43720751
0 comment(s) on Haryana to give Non Practicing Allowance at 20 percent to doctors