Health minister updates on PMJAY scheme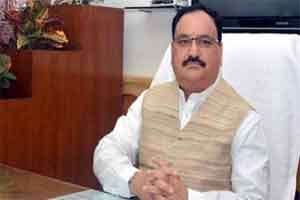 Rs 10,000 crore has to be spent in one year...then only we can save 40 percent population from higher medical treatment costs and keep them healthy- J P Nadda
Hyderabad: Union Health Minister J P Nadda Sunday said 1.5 lakh people have already benefited under the Centre's mega PMJAY health insurance scheme and Rs 150 crore claims paid so far since the initiative was launched on September 23.
Addressing the national convention of Bharatiya Janata Yuva Morcha (BJYM), BJP's youth wing, here, he said the world was studying the flagship scheme of the Narendra Modi government, aimed at providing a coverage of Rs five lakh per family annually, benefiting more than 10 crore poor families.
During his recent visit to Kazakhstan, he was asked about the Pradhan Mantri Jan Arogya Abhiyan (PMJAY), Nada said.
"1.5 lakh people have benefitted from Ayushman Bharat and bills worth Rs 200 crore were raised out of which Rs 150 crore had already been paid," he said.
The scheme was cashless and transparent. "The world is studying this. Rs 10,000 crore has to be spent in one year... then only we can save 40 per cent population from higher medical treatment costs and keep them healthy," Nadda said.
The scheme, touted as the world's largest health insurance programme, was launched pan-India by prime minister Narendra Modi from Jharkhand on September 23.
Nadda said the health sub-centres and primary health centres were being upgraded into wellness centres with modern facilities for treatment.
"We are bringing out a change in the health sector under Narendra Modiji," he said listing statistics on various health parameters.
Railway Minister Piyush Goyal, in his address to the convention, said 'historic' schemes had been implemented by the NDA government.
"...you take any survey in India if there is any leader who is most popular, it is Prime Minister Narendra Modi, he said listing the schemes, including the "Jan Dhan Yojana" and Swachh Bharat mission.
He said nine crore toilets had been built across the country and 100 per cent of homes would have the facility by next year.
Referring to the proposed unveiling of the statue of Sardar Vallabhbhai Patel (which would be taller than the statue of liberty in America), he said it was Modi who honoured and respected the late leader, who dedicated his life to the unity and integrity of the country, he said.
BJP General Secretary V Ram Madhav said the countrys prestige stature had risen at the international level under the Modi government.
"Every Indian, wherever he lives in the world, proudly says I am a proud Indian," he said adding India was providing leadership in dealing with global challenges like environment under the Modi government.
He also highlighted the contribution of the NDA government in popularising yoga at the international level.
In her address, BJYM national president and BJP MP Poonam Mahajan attacked the Congress and said some forces were trying to divide the country.
"We will not allow all those forces and will see to it how they will stop country's development and will fight with such forces," she said.
Mahajan urged the BJYM members to become "Vikas setu" (development bridge) and reach out to the beneficiaries of various schemes launched by the Modi government.