Health Minister updates parliament on development at Safdarjung Hospital, LHMC and AIIMS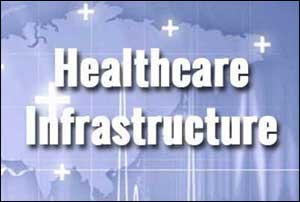 New Delhi: In a written statement given by Ashwini Kumar Choubey, the Minister of state for Health and Family Welfare, informed about the Government's plans to augment infrastructural and treatment facilities in Government hospitals across the country.
He informed about the central government's plan under Pradhan Mantri Swasthya Suraksha Yojana (PMSSY) to set up 6 new All India Institutes of Medical Sciences (AIIMS) at Jodhpur, Bhopal, Bhubaneshwar, Rishikesh, Raipur and Patna.
Regarding the development of government hospitals, the minister mentioned about the efforts made to improve the central government hospitals in Delhi including Safdarjung hospital, Lady Hardinge Medical College & Associated Hospitals and AIIMS, New Delhi.
Under the Redevelopment Plan of Safdarjung Hospital, in the recent past Super Specialty Block with 807 beds has been operationalised in June, 2018. The Super Specialty Block will cater to Neurosurgery, Nephrology, Pulmonary, Nuclear Medicine, Urology, Neurology, Endocrinology, Cardiothoracic & vascular surgery and Cardiology.  Besides, a New Emergency Block with 500 beds has started functioning w.e.f. 07.02.2018. The Emergency Block, besides catering to emergency cases, will also cater primarily to orthopedics, Neurosurgery, general surgery, Medicine and Paediatrics. The expansion of Sports Injury Centre with additional bed capacity and infrastructure facilities has been undertaken.
Under the Comprehensive Redevelopment Plan of Lady Hardinge Medical College & Associated Hospital, augmentation of infrastructural facilities including additional 570 beds and many new Departments and facility like Neurology, Respiratory Medicine, Pediatric Nephrology, Plastic Surgery, Blood transfer Medicine, Human Milk Bank in Neonatology and Oncology have been undertaken.
The questions regarding the augmentation of medical facilities in the hospitals and setting up of new hospitals were asked in the Rajya Sabha Session by Parimal Nathwani.
The annexure of the statements on fund allocation to various states and the development plans for strenghting medical facilities and construction/renovation of new AIIMS is attached below.
Read Also
:
India has MOUs with 53 countries in Healthcare Sector- Nadda