Health Ministry Reasoned Orders Seal fate of 11 more medical colleges, Check out Details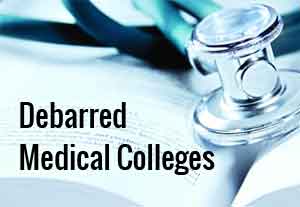 New Delhi: In pursuance of the Supreme Court Direction asking for detailed clarification from the health ministry on the issue of debarring medical colleges in the country, the health ministry is now releasing reasoned orders, detailing every aspect of why it denied permission to certain medical colleges while allowing others. The said orders come after the Health Ministry gave a chance to the said medical colleges to put their case on deficiencies forward with the ministry.
Medical Dialogues team had earlier reported that similar orders were also released on 14/08/2017.  In certain cases, some colleges were spared from debarment of two years, with some being given permission for this year, others being allowed to apply next year.
Read more at Medical Dialogues: 7 MCI Debarred Medical colleges get new lease of life
Now the health ministry has issued more reasoned orders, detailing point by point reasons, why it has denied or given permission to medical colleges based on the recommendations of the Medical Council of India. Following are the details ( you can click on the name of the college to get its reasoned order)


Chintpurni Medical College and Hospital, Pathankot, Uttarakhand- The ministry has reiterated its decision to debar Chintpurni Medical College and Hospital, Pathankot from admitting students for two academic years, is 2017-18 and 2018-19 and authorised the Medical Council of India to encash the bank guarantee for Rs 2 crore


Hind Institute of Medical Sciences, Ataria, Sitapur, UP- The ministry has reiterated its decision to not renew the permit to Hind Institute of Medical Sciences for admission to 150 MBBS seats for the academic year of 2017-18.


ICARE Institute of Medical Sciences and Research, Haldia- The ministry has reiterated its decision to confirm the conditional permission to ICARE Institute of Medical Sciences and Research for the MBBS admission for the academic year of 2016-17 and directed the college to not to admit students for 2017-18.


 IQ City Medical College, Burdwan, West Bengal- The ministry has reiterated its decision to not renew the permit to IQ City Medical College for admission of students for the academic year 2017-18.


Saraswati Institute of Medical Sciences, Hapur- The ministry has reiterated its decision to debar the Saraswati Institute of Medical Sciences from admitting students or two academic years, is 2017-18 and 2018-19 and authorised the Medical Council of India to encash the bank guarantee for Rs 2 crore.


Mount Zion Medical College, Pathanamthitta- The ministry has reiterated its decision to confirm the conditional permission for the academic year 2016-17 for MBBS admission and not to permit for the academic year 2017-18.


Jauhar Institute of Medical Sciences, Rampur- The ministry has reiterated its decision to disapprove the scheme of establishment of a new medical college at Rampur by Mohammad Ali Jauhar Trust, Rampur for the academic year 2017-18.


GCRG Institute of Medical Sciences, Lucknow- The ministry has reiterated its decision to debar GCRG Institute of Medical Sciences, Lucknow from admitting students for two academic years, is 2017-18 and 2018-19 and authorised the Medical Council of India to encash the bank guarantee for Rs 2 crore


Ananta Institute of Medical Science, Rajsamand, Rajasthan- The ministry has reiterated its decision to debar Ananta Institute of Medical Science, Rajsamand, Rajasthan from admitting students for two academic years, is 2017-18 and 2018-19 and authorised the Medical Council of India to encash the bank guarantee for Rs 2 crore


Shri Ramkrishna Institute of Medical Sciences and Shankra Hospitals, Durgapur- The ministry has reiterated its decision to disapprove the scheme of establishment of a new medical college at Durgapur by Shankra Hospitals Educational Trust for the academic year 2017-18.


Varunarjun Medical College- The ministry has reiterated its decision debar Varunarjun Medical College from admitting students for two academic years, is 2017-18 and 2018-19 and authorised the Medical Council of India to encash the bank guarantee for Rs 2 crore