124 Medical Colleges accorded NMC recognition in 3 years, 66 in 2021: Health Minister in Parliament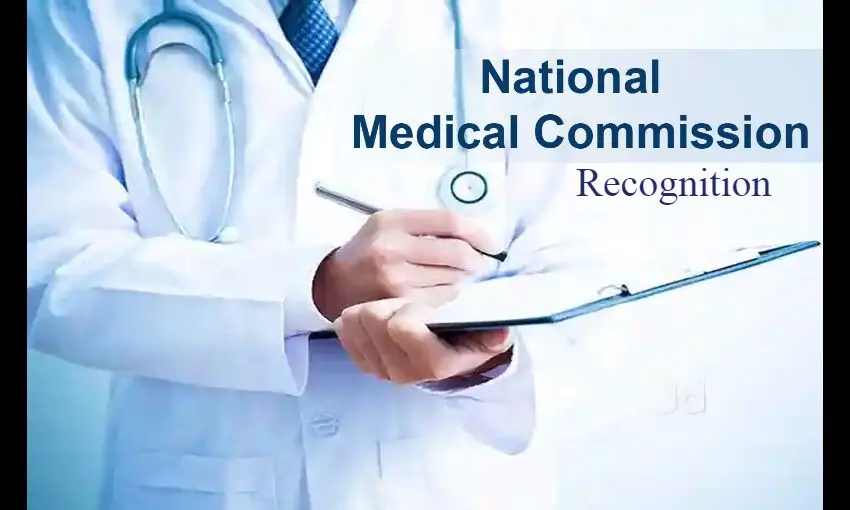 New Delhi: A total of 124 medical colleges across the country have bagged recognition from the National Medical Commission (NMC) during the last years, with 66 institutes being recognised this year to date.

The information to this effect comes from the data shared by the MoS Health Dr Bharati Pravin Pawar before the Parliament during question hour.
The minister was asked to present the data on the number of medical colleges accorded recognition by the erstwhile Medical Council of India (MCI), now National Medical Commission (NMC) across the country during the last three years.
Thus apprising the parliament, the Minister replied that as informed by the National Medical Commission (NMC), the 66 medical colleges have been accorded NMC recognition in 2021, 26 in 2020 and 32 institutes in 2019. With this, 124 medical colleges got NMC recognition during the last 3 years.
This year, standing at 11, Uttar Pradesh had the maximum number of medical colleges which got the NMC recognition. Last year 6 colleges and in 2019, 7 institutes had been accorded recognition.
Karnataka and Telangana come at second with NMC recognition to 6 medical colleges this year to date; while last year in Karnataka, there were 3 medical colleges, in 2019, only 1 medical college was recognised. Whereas in Telangana, last year no medical college was recognised and in 2019, there was only one.
5 medical colleges, each from Maharashtra and Andhra Pradesh and 4 medical institutes, each from Chhattisgarh, Tamil Nadu, Gujarat, Rajasthan and West Bengal have been accorded recognition this year as of now.
To date this year, 3 medical colleges from the states of Haryana and Kerala; 2 institutes from Madhya Pradesh have been recognised by the NMC.
Meanwhile, NMC has recognised only 1 medical college each from the states/UT of Delhi, Himachal Pradesh, Odisha, Punjab and Uttrakhand.
No medical colleges have been accorded NMC recognition from the states/UT of Bihar, Assam and Andaman & Nicobar Islands.
In-detail breakup of the number of medical colleges which have been accorded NMC recognition in the last 3 years is as follows:-
| | | | | |
| --- | --- | --- | --- | --- |
| S.No | State/UT | 2019 | 2020 | 2021 |
| 1 | Andhra Pradesh | 03 | 02 | 05 |
| 2 | Assam | 01 | 00 | 00 |
| 3 | Andaman and Nicobar | 00 | 01 | 00 |
| 4 | Bihar | 02 | 02 | 00 |
| 5 | Chattisgarh | 03 | 02 | 04 |
| 6 | Delhi | 00 | 00 | 01 |
| 7 | Gujarat | 00 | 02 | 04 |
| 8 | Haryana | 01 | 02 | 03 |
| 9 | Himachal Pradesh | 00 | 00 | 01 |
| 10 | Karnataka | 01 | 03 | 06 |
| 11 | Kerala | 05 | 00 | 03 |
| 12 | Madhya Pradesh | 01 | 01 | 02 |
| 13 | Maharashtra | 01 | 03 | 05 |
| 14 | Orissa | 01 | 00 | 01 |
| 15 | Punjab | 00 | 00 | 01 |
| 16 | Rajasthan | 02 | 01 | 04 |
| 17 | Tamilnadu | 02 | 01 | 04 |
| 18 | Telangana | 01 | 00 | 06 |
| 19 | Uttar Pradesh | 07 | 06 | 11 |
| 20 | Uttarakhand | 00 | 00 | 01 |
| 21 | West Bengal | 01 | 00 | 04 |
| | Total | 32 | 26 | 66 |