High Court stays Government Order allowing BAMS, BUMS to practice Allopathy after training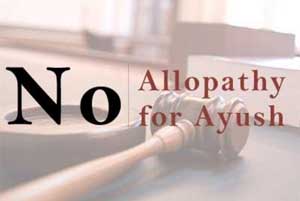 Chattisgarh: The Chattisgarh high court, through an interim order recently stayed the government order passed by the state government allowing certain Ayurveda  and Unani practitioners to practice allopathic medicine.
The stay order came after a petition was filed by the IMA, state branch before the state high court challenging the government order that allowed Ayurveda and Unani practitioners to practice modern medicine to the extent of training received by them.
The bone of contention between the parties in the case was  a recent  notification issued by the Government of Chhattisgarh invoking power under the Drugs and Cosmetic Rules, 1945 and Drugs and Cosmetic Act,1940 whereby t
he degree holders of Ayurvedic and Unani system of medicine included in the Second Schedule of the Indian Medicine Central Council Act, 1970 and registered under the Chhattisgarh Ayurvedic tatha Unani tatha Prakritic Chikitsa Vyavasai Adhiniyam, 1970 (Adoption order, 2001) are declared as registered medical practitioners entitled to practice modern system of medicine, which is known as Allopathy medicine "to the extent of training received by them in modern medicine".
The court highlighted the two issues before them


Whether the State Government has the power and jurisdiction to issue such a notification,


The eligibility to practice a school of medicine governed exclusively by a particular statute cannot be passed off to the persons who are not qualified in terms of that Act.


The counsel for IMA, however, pointed out the decision of Apex Court in Dr Mukhtiar Chand and others Vs State of Punjab and others which put forward the  clear decision that



persons practising the other system of medicine can, in substance, utilise the results of investigations conducted in connection with modern medicine. This does not authorise a person who is not duly certified to carry out such investigations to have the authority to perform investigations which are referable exclusively to the domain of Allopathy system of medicine and investigations.



Based on the said SC decision, the court passed an  interim order staying the operation of the notification dated 24.08.2017 without prejudice to the right of any practitioner of Indian Medicine to make use of modern advances in various sciences in the decision of Dr Mukhtiar Chand
With the order, the court however, left open the issue whether there is any integrated course or qualification which would entitle a person to practice and administer medicine under the Allopathy system of medicine without being qualified in terms of the provisions of the Indian Medicine Central Council Act, 1970.
The court has directed the  State Government as well as Other respondents to place their returns within the outer limit of one month. Attach is the order below