Horrific: Female Medico at Niloufer Hospital assaulted for removing attendant's bag to revive a patient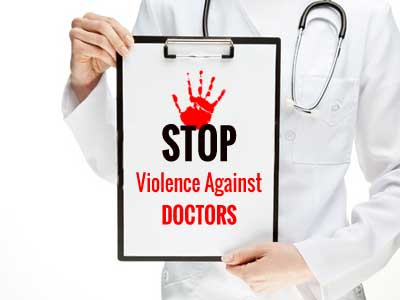 Hyderabad
: In yet another incident of violence against doctors during duty, a female medico at Niloufer Hospital was attacked for removing an attendant's handbag from the bed while trying to revive an 11-year-old patient.
Pertinently, the hospital is seeing a lot of patient rush nowadays due to infectious diseases such as viral infections, fevers and dengue, especially in kids. Due to the lack of beds at Niloufer Hospital, as many as four children are forced to share the bed.
According to media reports, the 25-year-old junior doctor was simply accommodating the 11-year-old patient who came in with active seizures at about midnight and the emergency team stabilised the child and shifted her to one of the beds. During the shifting process, on the bed and kept it aside to accommodate the child on the bed.
All of a sudden, the attendant got angry and started abusing the doctor also twisted her hand.
Read Also: Lack of Respect for Doctors: Dented Skull of Medico shows whats WRONG with Indian healthcare
Dr Ravi Kumar from Paediatrics department in the hospital told TOI, "A bag was kept on the patient's examining couch in the ESR treatment room, but when the emergency case was rushed in, the junior doctor removed the bag to accommodate the child, but the girl's relatives were furious that the bag was kept on the bed in the first place, and began verbally abusing the doctor."
The verbal abuse allegedly turned into an assault by the patient's relatives, who twisted the arm the junior doctor. "While the junior doctor was concentrating on treatment and trying to resuscitate the girl suffering from seizures, two of the child's relatives manhandled her. They twisted the junior doctor's arm and finger," Dr Ravi informed.
While the other doctors who came to the rescue of the female medico were also hit and the guards at the hospital became spectators rather intervening in the incident. The private security guards were merely spectators and did not move an inch and watched the tamasha, the junior doctors alleged while talking to
Deccan Chronicle
Based on the complaint filed by the doctors, the accused has been arrested under Section 5 of the Medical Services Institution Act and under IPC Section 332, 509, 506. According to sources, the entire incident was caught on CCTV cameras.
Meanwhile, following the incident, at least 50 members of TJUDA (Telangana Junior Doctors Association) staged a protest at the hospital and boycotted their elective duties till 3 pm.
Junior doctors demand that security be strengthened and more power be given to the Telangana State Police Special Protection Force (SPF), reports
Hans India
.
Dr Ramesh Reddy, DME, visited the hospital to discuss the issue with the doctors and superintendent. Dr Murali Krishna, superintendent of Niloufer Hospital presented the DME with a letter requesting to suspend the services of the AGILE Security Force Pvt Limited.
"Doctors have complained against Agile Security Force for the poor service offered by the firm. They say the lack of security at the hospital is even worse at night with incidents of doctors being manhandled by the patient's attendants being reported. There have been lapses in security services in the past. In view of the circumstances, it is necessary to terminate the service of Agile Security Force in the interest of the administration," said the letter by the Niloufer Hospital to the Director of Medical Education, quotes
TOI
Read Also: Union Health Ministry Constitutes 10 member Panel to Bring Common Law on Violence against Doctors