Hospitals or Centres of Doctor Assault? First CMC, Ludhiana, now MAMC, New Delhi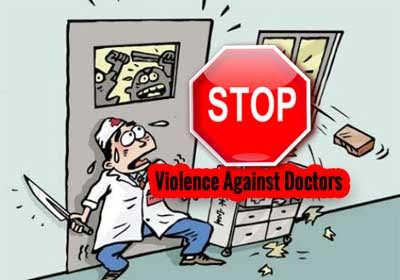 New Delhi: While the medical fraternity is still reeling with the assault of resident doctors at CMC, Ludhiana last week, more assaults are being reported displaying the sorry condition of affairs in terms of security of doctors in the country.
Doctors at Maulana Azad Medical College (MAMC) today went on a flash strike after a patient's attendants and relatives assaulted 2 resident doctors from the medicine and surgery Department brutally. Dr Shaam, PG medicine and Dr Gautam, PG surgery were the victims of this brutal assault. Dr Guatam also suffered a nasal bone fracture as a result of the assault, sources at the hospital informed Medical Dialogues.
Doctors demanding immediate arrest of the assaulters went on a flash strike, threatening to shut down all services at the hospital. Speaking with Medical Dialogues, Dr Vivek Chouksey, President of FORDA, "The residents have sustained grievous injuries. All outdoor and indoor services in MAMC have been shut down, excluding emergency services. Tomorrow onwards, Emergency services will also be shut down."
Similar incidence was reported from CMC Ludhiana last week when after the death of a patient, relatives vandalised the hospital and assaulted the doctors and staff of Pediatric ICU of the CMCH. The video of the same soon went viral of social media, prompting stern reactions from doctors across the country. Following the assault, 250 junior doctors of CMC held a non-violent protest demanding local administration and police authorities to book the culprits.
Following the backlash from the medical professionals, police have now arrested the family members under sections 341 (Punishment for wrongful restraint), 451, 323 (voluntarily causing hurt), 506 (criminal intimidation), 427 (Mischief causing damage to the amount of fifty rupees) of IPC as well as relevant sections of  Punjab protection of Medicare service persons and Medicare Service Institutions (Prevention of violence and damage to property) Act 2008.
Following is the small video on the assault at CMC, shared with Medical Dialogues by Dr Uday Kiran Reddy Rachamalla


[embed]https://www.youtube.com/watch?v=U4rnNYeicss[/embed]