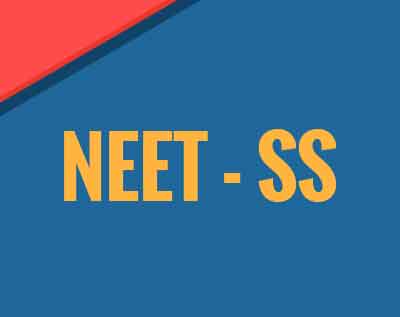 New Delhi: In what can be termed as a golden opportunity for medical practitioners in having a say in the policy-making of one of the most significant examinations for the medical field, the Ministry of Health through a recent notice has invited comments on the manner of conducting NEET (Super Specialty) in 2018.
The Government had introduced a common entrance examination viz. National Entrance cum Eligibility Test (NEET) for admission to all medical courses including Super Speciality courses in the country through amendment in the IMC Act, 1956. The Postgraduate Medical Education Regulations, 2000 have also been amended to provide for common counselling on All India basis by the Directorate General of Health Services (DGHS), MoHFW for admission to Super Speciality courses.
The Eligibility for DM/M.Ch courses is prescribed under the Post Graduate Medical Education Regulations, 2000. For example, the prior requirement for DM (Cardiology) is MD (Medicine), MD (Paediatrics), MD (Respiratory Medicine). Thus, unlike NEET UG and NEET PG where the eligibility is common as being class-XII and MBBS respectively, in case of NEET (SS) it varies from subject to subject.
NEET (SS), 2017 was conducted Broad Speciality wise and a common merit list was prepared for admission to the Super Speciality course for which such Broad Specialities were feeder courses.
The Ministry is examining the manner of conduct of NEET (SS) 2018 and in this regard It has been decided to obtain views/comments of all concerned to enable the Ministry to take an informed decision as Super Speciality courses is the highest level of professional excellence in medical field.
Comments are, therefore, invited on the manner of conducting NEET (SS) in 2018. The options under consideration at present are:
i) Broad Speciality wise NEET (SS) – a candidate competes in his/her respective speciality and for counselling, a single merit list will be prepared after moderation between various eligible subjects for the SS course.
ii) Super Speciality wise NEET (SS) – there will be an exam for every Super Speciality course in which the candidates from the eligible Broad Speciality will be allowed to participate. It has been suggested that a candidate may be allowed to opt to appear in a limited number of SS courses and not all courses for which he may be otherwise eligible so as to prevent blocking of seats at the time of counselling. The result will be prepared Super Speciality wise without any need for scaling/moderation between various subjects.
iii) NEET (SS) on the basis of MBBS – an option could be to conduct exam on the basis of a MBBS level paper of higher order difficulty. This could be a common paper for all candidates who would be allotted SS courses as per their eligibility and score in the exam.
The views on the above, or any other suggestion regarding conduct of NEET (SS) examination may be given at mepsection-mohfw@gov.in by 05.01.2018.
Kindly Note: To have an impact ,please send your individual comments to mepsection-mohfw@gov.in. The ministry has clarified that the opinion / comments using bulk email services will not be considered.
69 comment(s) on How to Conduct NEET Super Speciality 2018? Health Ministry invites Public comments