Hubballi: Doctors take out protest march against acts of Violence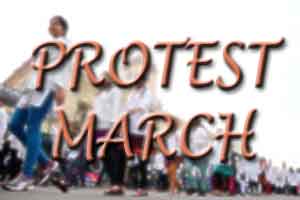 Hubballi, Karnataka: Doctors working at Karnataka Institute of Medical Sciences, KIMS took out a Silent protest march to Kittur Chennamma Circle followed by a demonstration on 30th November to oppose an act of violence against the doctors and other medical personnel working at the college.

As reported by Hindu, the protest march was done in response to a ghastly incidence at the hospital, where KIMS security staff and doctors on duty were manhandled by the relatives of a patient from Haveri district who succumbed to injuries suffered during a 'bull run'. As narrated by Dr Shivanand Hiremath, RDA President, KIMS Hubballi, the patient, had come to the hospital in the Orthopedics ward for operation with both legs fractured. During the course of the treatment, the patient had a severe adverse reaction to Ceftriaxone injection. He was immediately shifted to the ICU, but despite all efforts, the patient lost his life. Patient's aggrieved at the loss of their dear one, alleged medical negligence by hospital staff and began threatening the hospital. The dean of the said medical college, as well as the MS came personally to explain the reasons for the patients demise, yet the relatives started abusing the doctors present, threatening to ransack the hospital. This came to an end only after police intervention

"Such reactions are rare and unpredictable. While we sympathise with the patient's family, doctors cannot be blamed and beaten up for such occurrences, " Dr Shivanand said.

The  Silent protest March by the doctors of KIMS Hubballi was joined in by nursing staff and other medical personnel of the hospital and saw the support of Hubballi branch of Indian Medical Association (IMA), faculty members alike. A memorandum has been submitted to the DM demanding for more security and stringent laws to deal with such assaults.