Hyderabad: Osmania doctors protest for Secure Hospital Building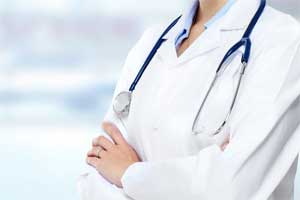 Hyderabad: Demanding a new building for one of the oldest hospitals in Hyderabad, the Osmania General Hospital doctors, who have been agitating for the last 75 days, suspended work for an hour on Thursday.
Hitting medical services, the doctors stopped outpatient facilities, elective duties and surgeries for an hour.
Speaking with ANI, Dr. Pandu Nayak said, "This hospital is very ancient one which was constructed 100 years ago. It started with 400 beds at that time but now it has increased to 5000 beds, by this we can understand how many patients will be coming to this hospital. As it is constructed years ago the roofs started collapsing at some places.
Recently a glass window collpased on a resident doctor, fortunately as it was a blunt glass the doctor didn't get a major injury."
Eleven associations of doctors had taken to a silent protest, but as there was no response from the government, the doctors have also stopped the elective procedures since Tuesday.
"After approaching many there is no response from the government and it is the 76th day of our protest. At first we were protesting calmly and we didn't want the patients to get affected, but day before yesterday we stopped the elective procedures for one hour which includes the stoppage of OP and the surgeries by which 1000 people are not getting the treatment for which the government should take the whole responsibility," he added.
The dilapidated condition of the hospital has posed a hazard to both doctors and patient, Nayak said, and added that a new building plan was presented to them three years ago by the chief minister but there was no implementation.
The hospital has already been declared an unsafe zone by Telangana State Medical Services and Infrastructure Development Corporation (TSMIDC), micro biologist Dr. Mohan Rao told.
The patients have also supported the doctors' protest, agreeing that the hospital's condition was unsuitable for treatment.
"It would be better if the hospital is reconstructed. The patients are facing lots of trouble because of the bad condition of the hospital. We are totally supporting the protest of the doctors for new construction of hospital," Allauddin said