ICMR releases disease burden due to Mental Disorders in India, Key findings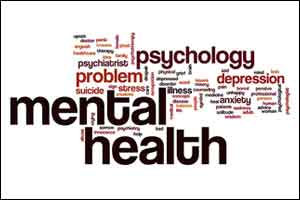 The ICMR findings have clearly noted that approximate 197 million persons, roughly one in seven Indians, suffered from any kind of mental disorders of the year 2017.New Delhi
: About one in seven persons in India suffered from mental disorders of varying severity in 2017, with depression and anxiety disorders being the most common mental disorders affecting 45.7 million and 44.9 million people each in the country, noted the findings of a first comprehensive study done by Indian Council of Medical Research (ICMR) on disease burden due to mental disorders in India.
The research has shown that there is a significant increase in the incidence of mental health disorders in India over the years. The ICMR findings have clearly noted that approximate 197 million persons, roughly one in seven Indians, suffered from any kind of mental disorders of the year 2017. These include depression, anxiety disorders, schizophrenia, bipolar disorders, idiopathic developmental intellectual disability, conduct disorders, and autism.
At the release of the GBD India Mental Disorders paper today at ICMR, Prof Balram Bhargava, Secretary to the Government of India, Department of Health Research and Director General, ICMR said, "The findings of this research demonstrate important differences between the states—the prevalence of adult mental disorders is higher in the southern states and that of childhood onset mental disorders is higher in the northern states of India. The insights provided by this study are important for titrating strategies for mental health improvement in each state. Given the significant contribution of mental disorders to the disease burden in India, further research should continue to track the changing trends of mental disorders in different parts of the country."
The state-specific findings described in this scientific paper highlight the extent of the effort needed in each state to address mental health which could serve as a reference for policy makers to plan approaches for reducing the growing burden of mental disorders in a systematic way. The trends over about three decades reported in this research paper utilized all available data sources from India, which enables more robust estimates than the estimates based on individual data sources in isolation.
Key findings from the paper include:



In 2017, 197.3 million Indians (14.3% of the total population) were suffering from various mental disorders. Of these, 45.7 million had depression and 44.9 million had anxiety disorders.




The contribution of mental disorders to the total disease burden in India in terms of DALYs increased from 2.5% in 1990 to 4.7% in 2017.




Mental disorders were the leading contributor in India to years lived with disability (YLDs), contributing 14.5% of all YLDs in 2017.




Depression contributed 33.8% of all mental disorder DALYs in India in 2017, followed by anxiety disorders (19.0%), idiopathic developmental intellectual disability (10.8%), and schizophrenia (9.8%).




Among the major mental disorders that manifest predominantly during adulthood, the prevalence of depression was 3.3%, anxiety disorders 3.3%, bipolar disorder 0.55%, and schizophrenia 0.25%. Among the mental disorders that have onset predominantly during childhood and adolescence, the prevalence for idiopathic developmental intellectual disability was 4.5%, conduct disorder 0.80%, attention-deficit hyperactivity disorder 0.42%, and autism spectrum disorders 0.35%.




The prevalence of predominantly childhood and adolescent onset mental disorders was higher in the less developed northern states, and that of the mental disorders manifesting predominantly during adulthood higher in the more developed southern states.




There was a significant association between the prevalence of depression and suicide death rate at the state level, with this association slightly stronger in females than in males.




The prevalence of depression, anxiety disorders, and eating disorders was significantly higher among females, and the prevalence of conduct disorder, autism spectrum disorders, and attention-deficit hyperactivity disorder was significantly higher among boys.




The prevalence of depressive disorders increased with age in India in 2017, with the highest prevalence in elderly.




The burden of mental disorders which manifest predominantly during adulthood increased in India from 1990 to 2017.




The burden of mental disorders of predominantly childhood and adolescent onset decreased in India from 1990 to 2017, but this decrease was relatively less in the less developed states.