ICMR team camps in HP as 102 dengue cases confirmed in Bilaspur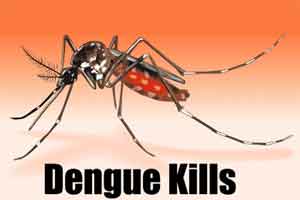 Shimla: A four-member team of the Indian Council of Medical Research reached Himachal Pradesh as over 100 confirmed cases of dengue were reported in Bilaspur, a Health Department official said.
The ICMR team, led by Narayani, came to the state from New Delhi on July 4 under the National Vector Borne Disease Control Programme, state Joint Director Health Services Ajay Kumar Gupta told PTI.
The ICMR team came here to locate and identify the exact sites in Bilaspur, where aedes mosquitoes, responsible for dengue, are active in Bilaspur, he said.
"A total of 102 dengue cases have been confirmed in Bilaspur since June 8 and 64 of them have been fully cured," Gupta said.
The rest of the 38 dengue patients are currently undergoing treatment.
Claiming that the situation is under control, he said all precautionary measures have been taken.
In case of requirement of administering platelets to the patients, blood transfusion machines are kept ready at the Indira Gandhi Medical College and Hospital (IGMC), Shimla and Zonal Hospital Mandi.
Most of the cases have been found from the Daire area of Bilaspur, the joint director said.
"The residents of that area in particular and the residents of other areas of Bilaspur town in general are being educated to remove stagnant water from coolers, tyres, flower pots and other such places as aedes mosquito grows in stagnant water," Gupta said.
Besides, fogging has been done since June 23 to check breeding of the aedes mosquito, he added.