ICMR: Walk in Interview for the Post of Scientist-C- Medical Survey Monitors on 01-02-2019, Check Out Details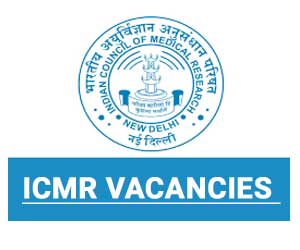 Chennai: Through a recent notification ICMR has invited suitable candidates to come and participate in walk-in-interview for Scientist C (Medical)-Survey Monitors forproject titled "National survey for state-wise prevalence of microbiologically confirmedpulmonary tuberculosis in India"
Tuberculosis Prevalence Survey is a time-bound activity and NIRT is taking a crucial role towards making a TB FREE India by undertaking various activities on mission mode. Under this initiative, NIRT has recently launched a project titled "National survey for the state-wise prevalence of microbiologically confirmed pulmonary tuberculosis in India" to carry out activities nation-wide.
For the smooth and successful functioning of the project, applications from suitable and willing candidates are invited to appear for a walk-in-interview for the posts purely contractual basis on short-term duration on a consolidated salary, The Interview will be held on 01/02/2019 
For detailed wise information about the application click on the link given below:
http://medicaljob.in/jobs.php?post_type=&job_tags=nirt-tamilnadu-jan2019&location=&job_sector=all
INSTRUCTIONS TO THE CANDIDATES:
1. The Candidates are expected to have good knowledge on the book titled "Tuberculosis prevalence surveys: a handbook" for working in this survey, please download the following: https://www.who.int/tb/advisory_bodies/impact_measurement_taskforce/resources_document
s/thelimebook/en/
2. Age relaxation is admissible in respect of SC/ST/OBC candidates as per Government of India Rules in respect of the posts reserved for those categories. Age concession to the extent of service rendered in other research projects will also be admissible for experienced persons.
3. Bring the filled in application with one set of photocopy of qualification and experience. Incomplete application or application without supportive evidence asked for, shall be summarily rejected
4. Candidate should submit all certificates/testimonials in original for verification. Candidates who fail to bring the Original Certificates for written test / Interview will not be considered
5. Experience certificate should clearly state the nature of work during the period of employment.
6. No-Objection certificate from the current employer/PI((for Govt./AB/PSU Servants only).
7. All posts are contractual for the duration offered on a short-term engagement on a consolidated salary as detailed against each post. The appointment is likely to be continued after every specific period of time subject to satisfactory performance of respective P.I of the project and subject to the approval of Director to a maximum up to the end of the project.
8. Since the appointment of all the posts are under the project funded by different agencies, the incumbents selected will have no claim for regular appointments under NIRT/ICMR or continuation of his/her services in the same project of any other project.
9. TA/DA will not be paid for attending the written test/interview.
10. The Institute reserves the right to fill up or not to fill the advertised posts even after conducting walk-in-interview/test.
11. Any further information may be downloaded from ICMR-NIRT website which will be updated from time to time.
12. Date of Walk-in-Interview/written test may be changed due to administrative reasons, hence, candidates are advised to check the website before appearing Walk-in-Interview.
13. The Director/Selection Committee has the right to accept/reject any application without assigning any reason thereof and no recommendation in this matter will be entertained.
Interested candidates fulfilling the required qualification may download the prescribed application form from the website www.nirt.res.in and walk-in on the date and time mentioned above, i.e at National Institute for Research in Tuberculosis, 1 Mayor Sathyamoorthy Road, Chetpet, Chennai 600 031 to attend the walk-in-written test/interview at the venue mentioned above. The filled-in application along with self-attested copies of all credentials in support of educational qualifications, age, caste/community and affixing a colour passport size photograph on the application form should be carried with while reporting for walk-in. Original Certificates of all these credentials should also be carried with for verification.
A fee of Rs.100/- drawn in favour of Director, NIRT, Chennai by way of demand draft from any Nationalized bank payable at Chennai should be enclosed with the application. However, SC/ST, physically disabled and women candidates are exempted from payment of fees subject to production of a valid certificate.
for more details click on the official website of ICMR given below:
https://icmr.nic.in/sites/default/files/career_opportunity/Advertisement_TB_Project.pdf