IGIMS Declaration form Controversy: Institute removes virgin from form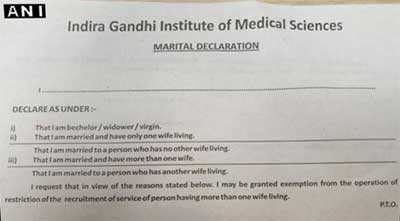 New Delhi: Indira Gandhi Institute of Medical Sciences (IGIMS), Patna removed the word 'virgin' from marital status declaration and issued a new form after facing huge backlash.
It was reported that the IGIMS had asked its employees to declare their virginity and number of wives in a marital status declaration form.
Out of three such declarations, one read as: "That I am bachelor/widower/virgin."
The college medical superintendent Manish Mandal, however, clarified the same and said the term 'virgin' does not have anything to do with virginity, but with marital status.
Bihar Health Minister Mangal Pandey also defended the college and said 'virgin' just means unmarried and there is nothing objectionable in it being written in the form.
"The word which is used is 'virgin'. It means unmarried girl, maiden. I don't think these words are objectionable. But, still this issue is being raised. I had a word with the officials of the IGIMS. They said that this is the format of AIIMS and since 1983, it is being used in every organisation of the country," Pandey told ANI.
Medical Dialogues team had earlier reported that Patna's Indira Gandhi Institute of Medical Sciences, IGIMS faced controversy over the declaration form in which the institute asked the students to fill their martial statues as bachelor, widower or virgin.
Doctors of the institute, on the condition of anonymity, pointed out that it is an absurd form, causing them a lot of embarrassment, when they take the same for verification from their seniors. With the photo of the form going viral, the institute is facing severe criticism from the media and the medical professionals alike for its contentious form. What was even more shocking is the revelation that  said questions in the form have been in practice ever since the institute was established in 1984.
Read also: 
IGIMS, Patna faces controversy for asking Doctors their Virginity Status