IMA extends support to Ex-MCI Chief Dr Ketan Desai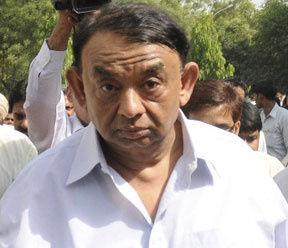 Indian Medical Association in a press release has extended its full support to ex-MCI chief, Dr Ketan Desai. This comes after the
CBI dropped charges
of cheating and criminal conspiracy against Dr Desai. Charges against him had come after then Medical Council of India president Dr Ketan Desai and two others were arrested in the year 2010 for
allegedly accepting
a bribe of Rs two crore to grant recognition to a medical college in Punjab.
Originally elected as WMA President in 2009, Dr. Desai was restricted to take over as President in 2010 at its General Assembly in
Canada
due to seven cases that were registered against him relating to corruption, by the government of
India
. However, WMA in 2010 in its General Assembly noted and agreed with Indian laws that Dr. Desai is innocent unless proved guilty. In 2013, the Brazil General Assembly revoked his suspension. A council meeting at
Japan
set-up steps for his reinstallation in 2016, based on a communication sent by the Indian Medical Association (IMA), enclosing a CBI letter enlisting the status of seven cases against him that was ratified in
South Africa
WMA General Assembly in 2014.
His re-installation as WMA president elect for the year 2016 was put in jeopardy after Reuters in its report raised the issue of the corruption charges against him. The World Medical Association, the leading international medical-ethics body, later said that it will look into "a number of questions" raised by a Reuters investigation of the organization's future president.
IMA supporting Dr Desai in its official statement has said-
Dr. Desai has never been convicted and deserves his rightful place at the WMA.
Here are some excerpts from the
official press release
" Unanimously elected three times to head the Medical Council of
India
, once Indian Medical Association, he was instrumental in reforming medical education, implementing a common entrance medical exam, making research compulsory for teachers and postgraduates; and stringent laws to prevent pharma-doctor nexus and hiring of fake doctors.
He was Professor and Head of Urology at the prestigious Government B J Medical College, Ahmedabad (1988-2015), and President of Gujarat Medical Council (1993-2010). He was a member of Institute Body of Premier institutes like AIIMS (
New Delhi
), PGIMER (Chandigarh), Drug Technical Advisory Board (
New Delhi
) and National Board of Examination (NBE).
Dr. Desai has won several awards like the Dr. B C Roy National Award for Eminent Medical Teacher, Visiting Professorship by Dr. M G R Medical University, Dr. A K N Sinha National Award for contribution to the medical profession by IMA, President's Gold Medal Award for outstanding contribution to Urology by the Urology Society of
India
etc.
Padma Shri Awardees - Dr. A Marthanda Pillai, National
President and Dr. K K Aggarwal,
Honorary Secretary General, IMA,
in a joint statement said, "Actions speak louder than words and the pivotal role played by Dr. Desai in streamlining the medical profession cannot be undermined by a few false accusations. The truth must come to the forefront and mere politics must not deter him from taking his rightful place as the President of the World Medical Association." "