IMA extends support to Ayushman Bharat days after seeking its review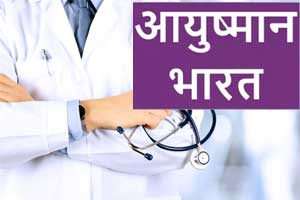 New Delhi:
  The Indian Medical Association (IMA) extended its support to the centre's ambitious Ayushman Bharat-National Health Protection Mission (AB-NHPM) scheme, a week after it sought a review of the programme saying it had "conceptual deficits and operational flaws".
IMA representatives met officials in-charge of the Ayushman Bharat and pledged cooperation in its better implementation, especially in empanelment of hospitals, spreading awareness and beneficiary identification processes, said a statement issued by an health agency working with the Ministry of Health.
IMA Secretary-General Dr R N Tandon said, "The IMA is proud to be associated with AB-NHPM and would be keen to provide help in spreading awareness and developing a larger network of quality service providers especially in tier-2 and tier-3 cities.
AB-NHPM CEO Dr Indu Bhushan said the IMA is a critical stakeholder in the scheme as the role of private sector is key to its success by enhancing the accessibility to quality and patient-centric care.
Key issues like timely payments to hospitals, feedback and grievance redressal mechanism, ease of setting up of IT infrastructure at hospitals for paperless transactions etc were deliberated on during the meeting and constructive suggestions were made, the press release said.
"We need to ensure that the targeted beneficiaries under AB-NHPM get maximum benefits and can expand access to quality health services in both rural and urban areas including Tier-2 and 3 cities.
"This can be done only when the government, private healthcare providers and associations like the IMA and other industry bodies work together as partners for the betterment of health status of the society," Bhushan said.
The IMA had last week demanded a review of the scheme, saying it has "conceptual deficits and operational flaws".
The doctors' body had said the rates quoted by the government for various procedures were abysmally low and impractical to implement. Most of them do not cover even 30 per cent of the cost of the procedure, it had said.
"No hospital can work on these rates without seriously compromising patient safety. In the garb of cost-cutting the government is exposing the people to danger in the hospitals. Caesarean sections underwritten for Rs 9,000 cannot ensure safety of the mother and the child," IMA national president Dr Ravi Wankhedkar had said.
The IMA had demanded that the costing undertaken be transparent and be in public domain.
The doctors' body had said the money allotted for the AB-NHPS would have better served the country if every district hospital was strengthened with an infrastructure of Rs 2 crores each.
IMA members had said apart from such conceptual deficits, the operational flaws of the scheme would ensure it remained a non-starter.