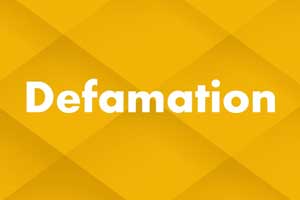 New Delhi: Taking serious note of the alleged defamatory remarks made against him on media and social media platforms, the current president of the Indian Medical Association (IMA) as well as Rajya Sabha Member Dr Santanu Sen has initiated legal actions against two persons
The national president of Indian Medical Association (IMA), Dr Santanu Sen has slapped a defamation notice of Rs 8 crore to a Kolkata based realtor on account of deliberately making maliciously false and defamatory statements against him which caused severe damage to his reputation and goodwill.
In another incident of alleged defamation, Dr Santanu Sen accused a doctor associated with Burdwan Medical College of defaming him on WhatsApp group by using objectionable and filthy language. The matter erupted after a statement given by Dr Sen during the agitation against doctors' assault at NRS Hospital. His statement was allegedly quoted and misinterpreted by the accused doctor and was circulated on social media. Dr Sen had written to the Director General of police to seek action against him for allegedly humiliating him on social media.
................................ Advertisement ................................
Dr Shantanu is one of the renowned medical professionals as well as an active face in politics. He is a well-known Radiologist and is presently the National President of IMA. In 2018, he became Member of Parliament, Rajya Sabha. He is also a Member of Parliamentary Standing Committee on Health and Family Welfare.
................................ Advertisement ................................
In relation to the statement given by Sumantra Chowdhury, a developer based in north Calcutta's Sinthee, Dr Sen had sent a defamatory notice for making derogatory statements in media that caused damage to his social image.
Dr Sen and Chowdhury were working together since 1975 and were into real estate and involved in the business of construction materials. The realtor had alleged that after the syndicate when he received materials from him for his own work, they were given at inflated prices and poor quality. He claimed inaccurate measurements and alleged stealing at every step of the way. He alleged that the doctor was involved in extortion of lakhs of Rupees as 'cuts', reports the Telegraph.
Defaming the doctor, the realtor stated that:
Dr Sen had initiated the whole concept of `tolabaji (extortion) with Rs 25,000.
The doctor had started a system where he had to be paid Rs 2 lacs per katath for being able to develop and
During 2012 to 2018 Chowdhury had paid Dr Sen a sum of Rs 40 to 42 lacs for five seven projects.
Following the allegations and imputations made by the realtor, Dr Sen took a stern move and gave a defamation letter to Chowdhury considering them baseless without any fair report of facts.
The letter pointed out that "the aforesaid allegations have caused unrest and anxiety" among the public "which is beyond repair despite any remedial measures taken" afterward.
The letter noted that it is evident that, the statements were misleading 'without making any inquiry to verify its authenticity' causing harm to the interest and reputation of the doctor. The doctor had to go through immeasurable 'mental torture, harassment, agony, humiliation' due to the incident and was being subjected to uncharitable comments on social media and other platforms as well.
'It is evident that such imputations made against the doctor are savage and vindictive in nature and are prima facie defamatory. Such allegations lead the general public to believe that he is involved in corrupt practices in view of his political affiliation', the letter added
The letter demanded further action actions :
Forthwith cease and desist from making or circulating any defamatory comments, statement and/or causing publication of the same in any media against the doctor;
Issue an unconditional apology within 72 hours in a press conference retracting the false, virulent and mala-fide statement made against the doctor and ensuring similar public awareness as that of defamatory statements.
Pay Rs. 8 Crores to the doctor on account of damages for loss of reputation;
Pay Rs. 2 Crores to the doctor on account of damages for mental agony, torture, and harassment;
The letter further stated that if the aforesaid action is not taken, within the given period of time, both criminal and civil action will be initiated against him.
Read Also: Paediatrician sends Rs 1 crore Defamation notice to Medical Superintendent
Shagufta Joined Medical Dialogues has been associated as Editor for Education Medical Dialogues since the year 2018.  She is a graduate from Delhi University. She can be contacted at editorial@medicaldialogues.in Contact no. 011-43720751
0 comment(s) on IMA President slaps Rs 10 crore defamation notice to Kolkata realtor for making malicious, false statements