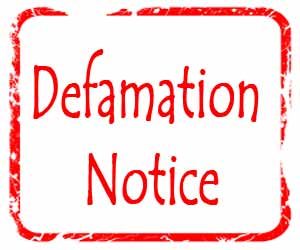 Patiala: A city-based paediatrician associated with Government Rajindra Hospital, earlier accused of referring patients to a private lab, has served a defamation notice of Rs 1 crore to the Medical Superintendent who claimed the allegation during his surprise visit to the hospital wards.
The Medical Dialogues team had earlier reported that the Medical Superintendent had visited the OPD of the Pediatrics Department at the Mother and Child Health building. He went to discuss a matter related to the government-run scheme Rashtriya Bal Swasthya Karyakram (RBSK). The official got suspicious when he saw two people sitting in the OPD. When queried, they admitted that they were medical representatives of a private lab.
In the meantime, when patients were questioned in regarding the referral, they revealed that they were being reportedly referred to a private lab by one Dr Kaur, a well-known paediatrician and was awarded at national and international level for her work.
The matter was sent to the higher authorities for investigation.
Read Also: Refferal of patients to private labs, Paediatrician under scanner
However, Dr Kaur had denied any such allegations and claimed to be framed by the authorities by planting a patient against her.
She had sought an unconditional apology and Rs 1 crore on account of damage and loss of her reputation within 15 days, reports the Tribune.
She claimed that she was on a 30-day child care leave from April 29 to May 28, but was called to the hospital by the Medical Superintendent to complete pending work related to the Rashtriya Bal Swasthya Karyakram (RBSK) scheme as she was a nodal officer, adds the Tribune.
Dr Kaur told the Tribune, "I was framed by the Medical Superintendent. The said patient was also planted by him. I will fight the battle for my reputation."
Meanwhile, the Medical Superintendent informed the Tribune, "On the basis of the patient's statement, I have already sent my report to the higher officials. Whatever I did was in the interest of patients and for better healthcare at the hospital. It is up to the higher officials to take action."
"Moreover, I have not received the notice yet.," he further added.
9 comment(s) on Paediatrician sends Rs 1 crore Defamation notice to Medical Superintendent