IMA recommends self-regulation procedures for doctors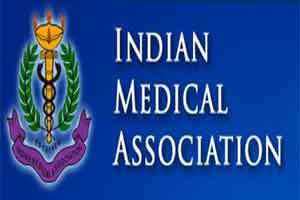 New Delhi: In the backdrop of alleged medical negligence and overcharging by two private hospitals of the city, the Indian Medical Association (IMA) urged state governments to subsidize emergencies in private sector and create a reimbursement mechanism.
No hospital can force their consultants to work on targets and the choice of drugs and devices should rest with doctors based on affordability of a patient and not the management, it said.
The recent death of a 7-year-old girl due to dengue at Fortis Hospital in Gurgaon which also billed the victim's family Rs 16 lakh for the treatment, as well as a premature baby wrongly declared dead by Max Hospital's Shalimar Bagh unit, have brought the country's private medical care under a cloud.
IMA president K K Aggarwal said the doctor-patient trust was experiencing a "downward spiral" in the country as people were looking at the medical profession with suspicion.
"It is disheartening to see the erosion in trust, and we want to make it more transparent. The doctor to patient ratio in India is skewed due to which doctors are under a lot of stress, and doctors are also human beings.
"Once a treatment is administered, the recuperation of a patient depends upon physical and organic factors. It is unacceptable and absurd to victimise a medical practitioner if a patient does not respond to treatment," Aggarwal told reporters here.
Referring to the Max Hospital incident, he said such errors happened by accident and not intentionally.
"Having said this, it is time for the medical profession to introspect and come out with self-regulation procedures. From today onwards, all doctors in the country shall choose affordable drugs.
"We also appeal to the state governments to come out with an urgent ordinance for 'one drug-one company-one price policy'. Doctors should actively participate in ensuring that no hospital sells any item priced higher than the Market Rate Price (MRP). No service charges should be added to procure drugs from outside. The MRP shall not be dictated by the purchaser," he said.
The IMA chief also announced formation of 'IMA Medical Redressal Commission' at the state level to engage in social, financial and quality audits of health care.
The commission will have a public man, an IMA office bearer, a former state medical council representative and two subject experts, he said.
"Such a commission shall consider every grievance in a time-bound manner. An appeal to the state commission will be heard by the headquarters of IMA Medical Redressal Commission, which will also have the power to take suo moto cases," Aggarwal explained.
The professional body of doctors also recommended the medical practitioners to prescribe National List of Essential Medicines (NLEM) drugs and promote Jan Aushadhi kendras. It also appealed to the governments to classify all disposables under NLEM and non-NLEM categories and cap the price of essential ones.
"Till then all medical establishments should sell the disposables at procurement prise after adding a predefined fixed margin," the IMA president said.
All doctors should ensure that hospital estimates at the time of admission are near to actual, he said.
"Emergency care is the responsibility of a state government and it should subsidize the costs of all emergencies in private sector, and create a mechanism for reimbursement," Aggarwal said.
The IMA chief added that the recommendations have been forwarded to the Medical Council of India (MCI) and the Delhi Medical Council, to be considered during the bodies' ethics committee meeting.
He said the recommendations would also be sent to chief ministers of all states, including Delhi CM Arvind Kejriwal.