IMA Strike Side-effects: Kerala Govt, Human Rights Commission launch Inquiry against Doctors Strike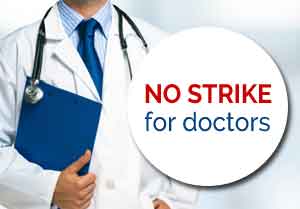 Kerala: Participating in the national wide strike of medical practitioners against the proposed National Medical Commission Bill, turned out difficult for doctors in Kerala as Both the State Human Rights Commission as well as the state government have now launched an inquiry against doctors who joined the strike and refused to attend patients during that time.
The State Human Rights Commission termed the medical bandh as "unlawful."  with the acting chairperson P. Mohandas even calling the boycott a crime.
Denial of treatment to people is a criminal offence and hence the strike called by the doctors is nothing but an unlawful act and is a violation of human rights,
said an order issued by the commission.
Hindu reports that Mr. Mohandas took particular notice of an incident at the General Hospital in Thiruvananthapuram. He said he saw television visuals of striking doctors dissuading another doctor from treating patients. They pulled her out of the medical ward where she was attending to a long queue of patients, including women and children. The act was a blatant transgression of the doctors' oath.
Doctors have the right to strike but they cannot play with the lives of the common man by denying them treatment in the name of the strike
, the commission observed.
TOI
reports that the commission said the Constitution of the country has given the right to live for every citizen. Hence no one has the authority to pose a challenge to this right. The fact that over 100 people were denied treatment by the doctors in the name of the strike is unpardonable, said the order.
The Commission has instructed R L Saritha, director, health services, to submit a report on the incident in a month. Even an explanation was also sought from the Director General of Police.
It is reported that taking cognizance of the strike, the Kerala Health Minister has also ordered an inquiry into the strike.