Give clear-cut guidelines on telemedicine: IMA asks Medical council of India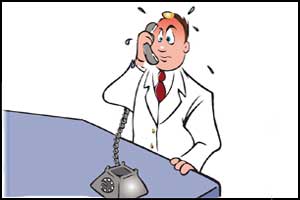 New Delhi: The Indian Medical Association (IMA) today sought clear-cut guidelines from the Medical Council of India (MCI) on the issue of telemedication while observing that the practice is illegal and unethical.
The genesis of the request comes after a Mumbai gynaecologist couple landed in trouble for prescribing medicines to a patient via phone who later fell ill. The couple were charged with IPC 304 with the court noting "Prescription without diagnosis would amount to culpable negligence. This amounts to gross negligence from the point of the standard of care and recklessness and negligence, which is a tricky road to travel."
Read Also: ATTENTION Doctors- Telephonic Consultation Amounts to Culpable Negligence, will attract IPC 304
The couple later got relief from the Supreme Court, but the Following a high court verdict to proceed with criminal prosecution in the incident which involved telephonic consultation, the issue came to the attention of the public and was widely discussed.
Following the same IMA has now asked the Council to specify the scope of telemedicine clearly
Apart from managing medical emergencies and situations involving adjustment of insulin levels in regular patients, analgesics for acute exacerbation of chronic pain under regular treatment etc., telephonic consultation will lead to medical negligence, the IMA said in a statement released today.
"Judicious use of telemedication in certain circumstances can be justified, but as the code of ethics is silent on these emerging areas, judicial over-activism can prove to be detrimental to this noble profession.
"Online consultations, online prescriptions and telemedicine are all topics which have posed ethical dilemmas. But at the same time, advancing technology can be harnessed for augmenting healthcare in remote areas, especially telemedicine and mobile health. The MCI must come out with clear-cut guidelines on these important issues, which many developed countries have," Dr Ravi Wankhedkar, National President of the IMA said.