Indore: Bariatric Surgeon gets NCDRC notice for actors death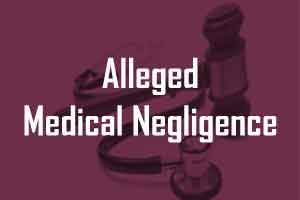 Indore: Bariatric surgeon Dr Mohit Bhandari, Mohak Hi-tech Specialty Hospital and Sri Aurobindo Institute of Medical Sciences (SAIMS), have received notice from the NCDRC on account of alleged botched up surgery of a TV actor Rakesh Deewana, which is alleged to have led to his death in the year 2014.

The case goes back to April 20, 2014, where the actor died following a bariatric surgery at the aforementioned hospital. The hospital at the time released an official statement which had clarified, "Deewana had undergone bariatric surgery on April 23 (2014) and at that time his condition was normal. After the procedure, he suffered hypertension and brain stem dysfunction which deteriorated his condition and he was shifted to ICU. All efforts were made to improve his condition, but he could not be saved."

His children, earlier this year, approached the NCDRC, complaining gross medical negligence on the part of the hospital as well as the concerned doctors. Complaining that there has been a medical negligence, deficiency in service and unfair trade practices, the actor's successors have claimed, "The deceased was not a fit case for bariatric surgery/laparoscopic sleeve gastrectomy."

Speaking to Times of India about the case,Harshvardhan Singh Rathore, patients lawyer said, "The doctor and others had shown 'an unjust haste' in performing the surgery which ultimately complicated the situation and eventually led to death of Deewana, thus this is a fit case where principles of 'Res Ipsa Loquitor' (facts speak for themselves) applies." The quantum of compensation has not been disclosed.

Dr Bhandari told TOI that he was yet to receive any notice in this regard and would respond to it whenever he gets it. "There was no case of medical negligence. They want to extort the doctors. We have done more than 6000 successful such (bariatric) surgeries," he said.

Rakesh Diwana, had acted in various TV serials including Ramayana, Yeh Rishta Kya Kehlata hai and Taarak Mehta Ka Ooltah Chashmah.