Insurance company told to pay Compensation on account of Delaying Mediclaim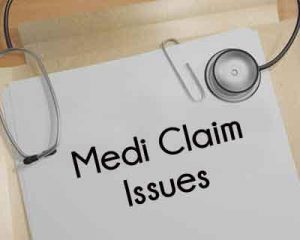 Amritsar: Mediclaim is assured financial aid for insurers, though seeking them on time often becomes a herculean task for policyholders. A recent case has come to light wherein an insurance firm has been directed by the district consumer redressal forum to pay compensation and litigation expenses for deferring the medical claim.
The matter relates to one Darshan Talwar who filed a complaint under section 12 of the Consumer Protection Act against the Oriental Insurance and India Healthcare Services (TPA). Talwar, a retired official from Government of Punjab and being pensioner, the Government of Punjab, obtained Mediclaim policy for himself as well as his wife under the Punjab Government Employees and Pensioners Health Insurance Scheme.
During the validity of the policy, his wife remained admitted in K.D. Hospital and took treatment for "Upper GI Bleeding severe Sepsis with acute respiration failure". The complainant intimated TPA
immediately at the time of admission. Unfortunately, his wife died. Following this, the complainant submitted the claim along with all the requisite documents and other medical record and bills. The total expenditure f Rs 1,13,060 was incurred on the said treatment.
However, despite the submission of requisite documents within time, the insurance firm verbally told that reimbursement cannot be given to the complainant. Moreover, the complainant alleged that he was neither furnished with any terms and conditions under which the reimbursement is not permissible.
Subsequently, he filed the complaint on November 15, 2016, with the district forum.
Also Read: Mediclaim cannot be rejected if duplicate bills are submitted: Consumer Forum on doctors plea
Initially, TPA did not appear and as such, it proceeded against ex-parte but at the later stage, the firm's advocate Rajinder Nayyar appeared and prayed that he may be allowed to join the proceedings at that stage, while, Oriental Insurance replied that the claim was approved as per terms and conditions of the policy and in accordance with approved schedule of rates for an amount of Rs 79,439 and the said amount was duly credited into the account of the complainant on February 23, 2017.
The forum observed that during the pendency of the present proceedings, the opposite party paid a sum of Rs 79,439 against the total amount of Rs 1,13,060.
The forum held that no doubt the opposite party had settled the claim of the complainant as per PGEPHIS rates but the same was settled during the case proceedings.
The forum further stated that the opposite party delayed the genuine claim of the complainant which it was bound to settle within 15 days from the date of lodging of the claim, so the firm is liable to pay compensation.
The insurance company has been directed to pay Rs 10,000 as compensation and Rs 5,000 as litigation expenses for delaying the medical claim of a local resident.
Also Read: Medical Insurance to refund MRI, pre-operation expenses under mediclaim : Consumer Panel