IRIA stands up against Draconian Provisions of the PC-PNDT Act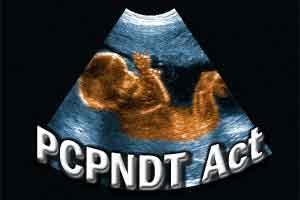 Maharashtra: Radiologists all over the state, under the umbrella body of IRIA ( Indian Radiological and Imaging Assocition) have decided to go on a strike tomorrow to oppose the "draconian" provisions of the PC-PNDT and the victimization of many radiologists for minor clerical errors under the act.
This comes after one Radiologist from Pune, Dr. Ashutosh Jape, was allegedly incorrectly booked under the act.  Sources at IRIA inform that Dr Ashutosh Jape had correctly diagnosed a case of meningocele in a pregnant patient who subsequently underwent a medical termination of pregnancy. Incorrectly believing this to be a case of female foeticide, Pune Appropriate Authority allegedly went ahead and sealed his three machines after a 5 hour inspection that ended at 2 am. Supporters of Dr Jape argue that Subsequent investigations and the panchnamma made (on 2 clerical errors in Form F) have proven that this decision was taken in haste.
It is reported that Dr. Jape's ultrasound machines were sealed on 5th April 2016, and since then Dr. Jape and the office bearers of Maharashtra a State Branch of Indian Radiology and Imaging Association (MSBIRIA) have been running pillar to post for getting justice. MSBIRIA made multiple communications with all possible government authorities at all levels, however, all efforts have been in vain. MSBIRIA has firmly impressed upon all government authorities that in the process of unfair prosecution of Dr. Jape, there has been gross violation of the PCPNDT act at the hands of implementing authorities. Still, Dr. Jape continues to suffer from severe mental agony and irreparable tarnishing of his social reputation.
"It is becoming impossible for Radiologists to continue practicing with the morbid fear of unfair prosecution under PC-PNDT act. The healthcare in India is primarily dependent upon small and medium-sized private medical set-ups, since government healthcare facilities are grossly inadequate. Despite that, if the government officials continue to harass honest Radiologist private practitioners, then Radiologists have no option but to stop practicing. Why should an honest Radiologist face a jail term for no fault of his?" said Dr OP Bansal, President IRIA
In view of the above situation, MSBIRIA and the Radiologists all over Maharashtra have decided to suspend all Radiological services on 14th June 2016. The Radiologists of Pune will continue to indefinitely suspend their services from 14th June 2016 onwards, till justice is served. The doctors have however clarified that they will continue to provide services in case of medical emergencies at all levels of healthcare.
Maharastra State Branch of IRIA has put the following demands in front of the government of Maharashtra :-


Quashing of all the fabricated accusations against Dr. Ashutosh Jape, and immediate unsealing of his ultrasound machines.


Removal of the Appropriate Authority of Pune Municipal Corporation from the said post in view of gross violation of PCPNDT act.


Instructions to all Appropriate Authorities of Maharashtra about uniform, systematic and unprejudiced implementation of PCPNDT act.


"The suspension of Radiology services in Pune will continue until all our demands are met, and if need be, Radiologists from whole of Maharashtra will suspend their services indefinitely." said Dr Lachyan, President IRIA Pune Branch.
Dr OP Bansal President IRIA and Dr.Jignesh Thakker National coordinator of IRIA on PC & PNDT declared that there will be complete strike in Maharastra on 14th June in support of members of Pune chapter of MSBIRIA and if the issue is not resolved there will be complete strike all over the country.