Jaipur: semi ICU's to be converted to ICUs at SMS hospital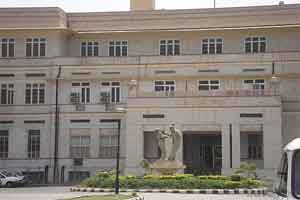 Jaipur: By adding ventilators to the existing semi ICUs in the SMS hospital in Jaipur, the administration plan to  upgrade it into full fledged ICUs.

In order to upgrade such 61 semi ICUs, the hospital has sought help from the donors. 143 ICU beds exist at the hospital.

In addition, there is also a requirement to increase the number of beds to cater to the 1.74 lakh populations reported to visit the hospital. This figure in 2014 went upto to 1.82 lakh in 2015. Hence the need to increase the bed capacity from the current 2,296. In the last two years it was increased from 1,953 beds to reach 2,296.

Also, patients visiting the hospital from other states are no longer entitled to free medicines and free diagnostic schemes anymore. They are now required to pay for the services.

As reported by TOI, There are 61 semi-ICU beds in the hospital. They have all the facilities including monitors, oxygen pipelines and other equipment, but they do not have the facilities of ventilators. "We are seeking help from the donors to come forward and donate the ventilators. So far, we have received 10 ventilators from donors," SMS Hospital superintendent Dr Man Prakash Sharma said.

At present, the hospital has 143 ICU beds and 61 semi-ICU beds. "If all semi-ICU beds are converted into ICU beds, the strength of ICU beds will increase to 204," he said.

"The number of total beds has increased in the past two years. Two years ago, we had 1,953 beds which has now increased to 2,296. But, as the number of OPD patients are constantly increasing, we need more beds," Dr Singh said. Now, as the number of OPD patients is on the rise, the SMS Hospital has taken steps to ease the pressure. The patients coming to SMS hospital from other states will now have to pay for the facilities they get in the hospital. They will not get the benefit of free medicine and free diagnostic schemes any more, said Dr Ajit Singh, additional superintendent, SMS hospital.