Noida : Jaypee Hospital inaugurates Department of Sports Medicine & Rehabilitation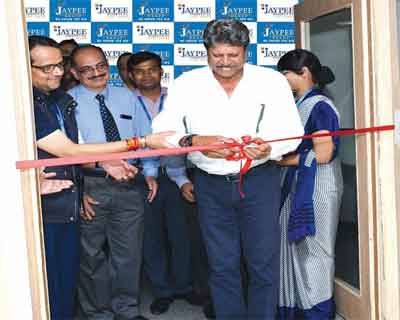 Noida:  Jaypee Hospital, a Multi Super Speciality Hospital located at Sector 128 Noida, announced the launch of the Department of Sports Medicine & Rehabilitation. The Sports Centre will provide end-to-end specialised treatment and a provision pivotal for the complete rehabilitation of any sports related injury. The specialized centre will equally benefit patients/individuals who need minimally invasive/arthroscopic procedures to get back to work in shortest possible time.
Mr. Sunny Gaur, Managing Director-Jaypee Hospital, Mrs Rekha Dixit, Director–Jaypee Hospital, Dr. Manoj Luthra, CEO-Jaypee Hospital and former captain of Indian cricket team Mr. Kapil Dev were present on the occasion.
Injuries are a common occurrence in professional sports and most teams have a staff of athletic trainers to minimise such injuries and provide immediate aid on the field. However, intervention by a team of sports injury specialists becomes necessary for any injury related to sports to not only provide definitive treatment but also for physical & psychological rehabilitation, so that the sportsman can return to playing in the shortest possible time.
The new department will have sports medicine specialists, orthopaedicians, physiotherapists and psychologists in addition to other supportive specialities so as to provide comprehensive treatment in case of any kind of sports related injury. The Department will also have specialised programs to boost the performance of athletes such as Sports Fitness Training & Conditioning, Performance Up-gradation, Back to Track Program and Sports Injury Prevention programs.
Mr. Sunny Gaur, Managing Director, Jaypee Hospital said, "In keeping with the vision of our founder chairman, Shri Jaiprakash Gaur ji, we are bound to provide comprehensive medical care at competitive rates to the masses. It is with pride that I can confidently say that since our inception we have been able to fulfil our commitment. Furthermore, we are moving ahead and today have established a state-of-the-art department of sports medicine and rehabilitation. We have a team of specialists who will be dedicated towards providing specialised treatment of sports injuries in the department."
Dr. Manoj Luthra, CEO, Jaypee Hospital said, "Sports medicine requires a team effort, gone are the days when one individual alone used to treat injuries. A full team for sports medicine includes speciality physicians & surgeons, athletic trainers, physical therapists, coaches & others. It is our endeavor to provide this kind of team concept to sportsmen at this centre."
Inaugurating the Department Mr. Kapil Dev, Ex Indian Cricket Team Captain stated, "The facility will be very useful for upcoming sporting talent who can build their performance to international level through endurance programs at this centre. Sports injury is very common primarily because of high intensity physical activities. What separates the athletes today from our time is the access to world class sports medicine centres like Jaypee Hospital. Such facilities not only help in a speedy rehabilitation but will also prolong the playing career of an athlete."