Jaypee Hospital starts new medical Journal : Med Review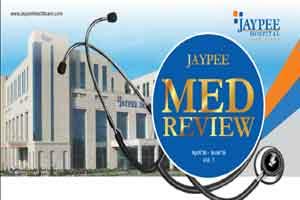 Noida: Jaypee Hospital, a Multi Super Speciality Hospital in Sector 128 Noida, has initated a knowledge sharing initiative for more than 2500 doctors across pan India. Jaypee Hospital has launched a Medical Journal, named 'Med Review' in order to connect various doctors across India and highlight their expertise and unique cases operational in medical fraternity. The medical review journal will be published quarterly with valuable insights from Jaypee Hospital doctors.
Commenting on the launch of Med Review, Mr. Manish Trivedi, COO, Jaypee Hospital said, "We continue the legacy of Jaypee Hospitals of setting industry benchmarks and contributing to elevate the standard of healthcare to the next level. We are quiet enthusiastic to start the Med review, this will be a first of its kind endeavour to enlighten the scientific and critical cases operated by the Jaypee Hospital. It will be an excellent resource for physicians, doctors to initiate greater understanding about issues ranging from clinical integration to population health and quality".
"Every quarter nearly 3000 copies of Med review will be given free of cost to the doctors pan India in the medical fraternity", adds Mr. Trivedi.
The Jaypee hospital has comprehensive care in all multi-super- specialties, which includes Cardiac Sciences, Neuro sciences, Spine, Orthopedics and Trauma, Critical Care & Pulmonology, Vascular and Endovascular Surgery, GI and Hepatopancreaticobiliary, Oncology, Nuclear Medicine, Aesthetic and Cosmetic Sciences, Neonatology to name a few.