Job Alert: Gujarat Public Service Commission Releases 1,619 Vacancies for MBBS Doctors, Details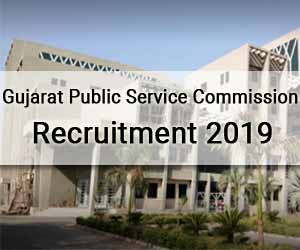 Gandhinagar: The Gujarat Public Service Commission (GPSC) Gandhinagar has released 1,619 vacancies for the Medical Officer Posts on Regular Basis. The selection would be done on the basis of written test.
The Gujarat Public Service Commission (GPSC) is the state agency authorized to conduct the Civil Services Examination for entry-level appointments to the various Civil Services of Gujarat.
Last date for submission of application: 31st July 2019Vacancy Details: 1,619
Medical Officer- 1,493
Insurance Medical Officer - 126
For more details on the Date and Mode of Examination, Qualification, Age, Pay & Allowance, Preference of Post, Exam Place, Application Fees, click on the following link:
https://medicaljob.in/jobs.php?post_type=&job_tags=GPSC+vacancies+2019&location=&job_sector=allNote:
(Candidate has to apply common 01 online application for above posts)
(1) Disable candidates having a disability of OA (One Arm), OL (One Leg) and who can move independently and perform duties can apply for the post. Candidates having a disability other than prescribed above are not eligible for application. physically disable Candidates will have to fill up details of their disability in personal Details while applying online.
(2) In Case of Physical Disabled Candidates having Disability of 40% or above shall get benefits of Physical Disability according to G.A.D Resolution dated 15-02-2001, No. CRR-102000-GOI-7-G-2.
(3) The candidate will select in posts reserved for Physically Disabled and Ex. Servicemen will be considered as their Category (non-reserved / economically weaker Section / S.E.B.C / SC / ST)
(4) Candidates of EWS, S.E.B.C, S.C, and S.T can apply against General Category and criteria of General Category shall apply.
(5) In Case of Non-availability of Women Candidates in the Respective Category, the reserved post will be allotted to Male Candidates belonging to the same category.
(6) Candidates shall carefully read Advertisement No. and Name of Post Before Applying online. A candidate shall confirm the application only after verifying the details filled in the application form.
(7) Any request or representation to correct any error or omission in the confirmed online application, or information filled in by the candidate shall not be accepted.
(8) In case of more than one online application made by the candidate, only the latest confirmed application will be considered by the commission. For candidates belonging to unreserved category the last confirmed application with fees will be considered by the Commission.
(9) Candidates shall keep ready the certificates required in case of eligibility for the interview (in the order mentioned in general instructions). And upload online when asked by Commission.
(10) Certificates for eligibility for reservation in favor of EWS of citizens shall be in the format as prescribed by social justice and empowerment department, Government of Gujarat's Resolution No: EWS/122019/45903/A, Date: 25/01/2019. (Annexure-kh in English and Annexure- g (ગ) in Gujarati). The candidates shall mention the number and date of the EWS certificate while applying online.
(11) This recruitment called as Medical Officer, Gujarat Medical Services, Class-II, and Gujarat/Health Services, Class-II, and Tutor Class-II and Municipal Health Officer Class-II and Insurance Medical Officer (Allopathy) Class-II Combined Competitive Examination.