Apply now with Haryana Health Department for 980 Vacancies of Medical Officer Post, Details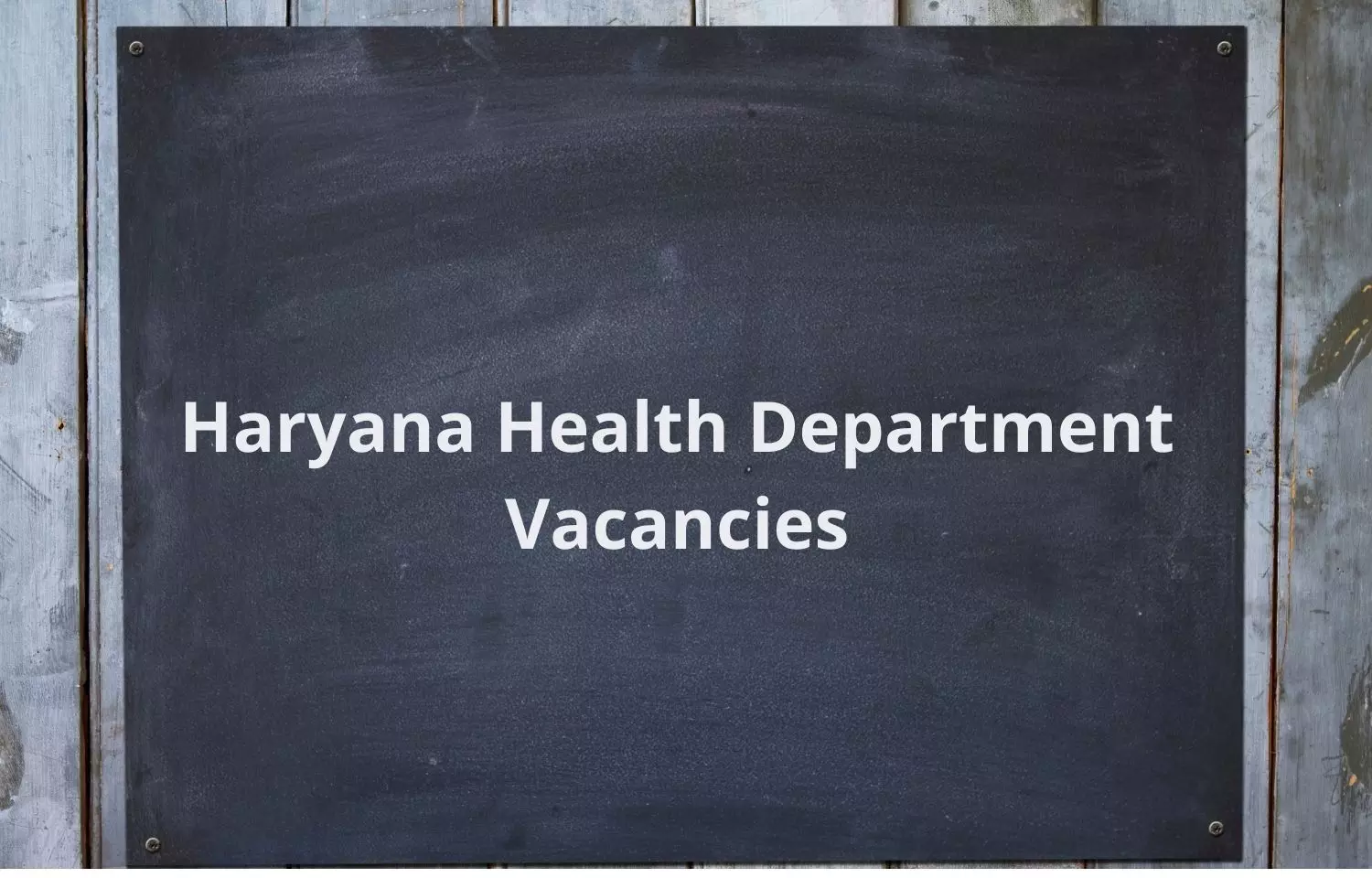 Chandigarh: The Health Department of Haryana has invited applications from candidates to apply For the Medical Officer Post Vacancies. Eligible candidates can apply online through the official site of the Health Department, Haryana on haryanahealth.nic.in.
Health Department is Headed by the Director-General, Health Services and is assisted by One Additional Director General, Seven Directors, One Additional Director (Administration), One Joint Director (Administration) and Deputy Directors at the Head Office. The Head of Health Services in the District is Civil Surgeon while the Civil Hospitals are headed by Principal Medical Officers/Medical Superintendents / Senior Medical Officers. Community Health Centres and Primary Health Centres are headed by Senior Medical Officers and Medical Officer-in-charge respectively.". There are Civil Hospitals, Community Health Centres, Primary Health Centres, Health Subcentres, Polyclinics, Dispensaries and Urban Health Centres in the State.
Vacancy Details:
Total no of Vacancies: 980
The registration process was started on January 10 and will end on January 30, 2022.
For more details about Qualification, Age, and Pay Allowance, and much more, click on the given link:
https://medicaljob.in/job/medical-officer-health-department-haryana-india-haryana
HOW TO APPLY:

Candidates are required to apply by submitting online applications, the link for which is available on the websites of the health department and Pt. B. D. Sharma University of Health Sciences Rohtak i,e.www.haryanahealth.nic.in & www.uhsr.ac.in.
Detailed instructions for filling up online application forms are available on the above-mentioned websites. Applications submitted by any means other than the web link available on the above-mentioned two websites shall be summarily rejected.
What are the General Instructions?
i) The use of any mobile phone (even in switched-off mode), pager or any other electronic equipment or programmable device or storage media like pen drive, smartwatches etc. or camera or Bluetooth devices or any other equipment or related accessories either in working or switched-off mode capable of being used as a communication/copying/storage device during the examination is strictly prohibited. Any infringement of these instructions shall entail disciplinary action including ban from future examinations.
ii) Candidates are advised in their own interest not to bring any of the banned items including mobile phones/pagers to the venue of the written test/ examination as arrangement for safe-keeping cannot be assured. Department/ UHS, Rohtak will not be responsible for any loss in this regard.
iii) Candidates are also advised not to bring any valuable/costly items to the venue of the written test/examination as safe-keeping of the same cannot be assured. Department/ UHS, Rohtak will not be responsible for any loss in this regard.
iv) Candidates should ensure that the signatures are appended by them at all the places viz. at the uploaded application form, attendance list, and in other documents as well as in all the correspondence with the department/ UHS, Rohtak should be identical. If any variation is found in the signatures appended by a candidate, his / her candidature will be liable for cancellation.
v) No candidate shall be allowed to appear in the written test if he/she doesn't have a valid Admit Card issued by Pt. B. D. Sharma UHS, Rohtak.
vi) Success in the written test/examination confers no right to appointment unless Government is satisfied after such enquiry as may be considered necessary, that the candidate is suitable in all respects for appointment after conducting the complete selection process.
vii) Due care should be taken by the candidates while filling up the online application form. Incomplete applications without supporting documents or defective application form shall be summarily rejected. No representation or correspondence regarding such rejection shall be entertained under any circumstances. No means/mode of submission of applications other than through the web portal shall be accepted.
viii) Candidates are directed to ensure that they are in possession of all the certificates/documents in support of their claim, which have been issued on or before the closing date. The certificates issued after the closing date will not be accepted by the department.
ix) Job Profile — To provide preventive, promotive and curative Health Care Services in various Public Health Institutions of the State and any other duty assigned by the authorities from time to time.
21. Withdrawal of applications:
No request for withdrawal of candidature received from a candidate after he/she has submitted his/her application will be entertained under any circumstances.
The final merit of a candidate shall be computed based on the marks secured as per the under mentioned scheme of allocation of marks:
1. Written test 100 marks
2. Post Graduate Degree 14 marks
3. Post Graduate Diploma 10 marks
4. Experience of Professional work & Service in Rural Area — 10 marks (maximum)
a) Experience of working in the rural area @ 2 Marks/Year

b) Experience of working in any area other than rural area RCP, 1 Mark/Year
Experience only from State Health Department Haryana, NHM Haryana. Pt. B.D. Sharma_PGIMS, Rohtak, Governmental Medical Colleges of Haryana State & MAMC, Agroha, Haryana will be considered.
22. Final Selection list shall be uploaded on the website of the Health Department after verification of documents uploaded in support of the claim.