JOB ALERT: Janakpuri Super Specialty Hospital Delhi Releases 31 Vacancies For SR Post in 10 Specialities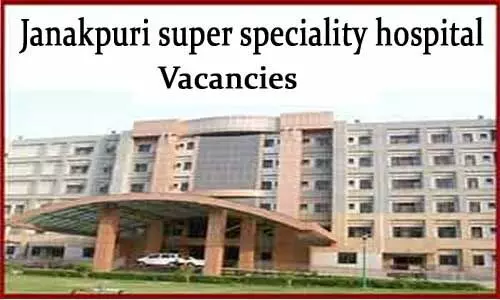 New Delhi- The Janakpuri Super Specialty Hospital Society (JSSHS) has released 31 vacancies for Senior Resident post on the Ad-hoc basis for 89 days. The selection will be done based on an interview.
JSSHS is an Autonomous Institute under the Govt. of NCT of Delhi having Cardiology, Neurology, Nephrology and Gastroenterology departments with state of the art non-invasive facilities in Cardiology and Neurology as well as endoscopic services in Gastroenterology. It has automated and quality diagnostic Laboratories with 'NABL' accreditation. JSSHS received FICCI Healthcare Excellence Award 2014 in Customer Service Improvement in the Public Sector.
Vacancy Details:
Total no. of vacancies- 31
The Vacancies are in the Department of- Anesthesia, Biochemistry, Cardiology, Gastroenterology, Microbiology, Nephrology,Neurology, Nuclear Medicine, Pathology, and Radiology.
Last Date of Application: 29th February 2020.
For more details about Senior Resident Qualification, Age, Pay Allowances, and much more click on the given link:
https://medicaljob.in/jobs.php?post_type=&job_tags=JSSHS+vacancies&location=&job_sector=all
What are the Terms & Conditions?
i. In case of non-availability of fresh candidates, the candidates who have completed 03 years of senior residency may also be allowed to appear in the interview as fresh candidates.
ii. A separate merit list would be prepared for the candidates who have completed their senior residency for 03 years.
iii. Firstly the list containing the names of the fresh candidates would be exhausted for the appointment and the second list would be used only after that.
iv. All appointments of residents from the second list will be for 1 (One) year only, it would not be renewable after one year.
v. The vacancy may vary as per the JSSHS requirement.
What are the Important Instructions?
l. Please download and fill the correct application form only.
2. All entries must be made in CAPITALS & should be LEGIBLE.
3. Email id and telephone numbers must be valid and easily readable.
4. All supporting documents should be self-attested.
5. All supporting documents should be attached in the order specified.
6. Incomplete/ illegible applications shall be summarily rejected.
7. Applications in the prescribed format along with the online fees submission receipt and self-attested copies of the certificates should reach the Office of the Director, Administrative Block, lst Floor, Janakpuri Super Speciality Hospital Society, C-28, Janakpuri, New Delhi - 110058, contact Details:- (011-25552023) on or before 2910212020 till 10:00 AM. Application received later for whatever reasons shall not be entertained.
Read Also: UPSC Delhi Releases Vacancies For Doctors In Various Specialities