JP Nadda reviews relief measures in flood-hit Kerala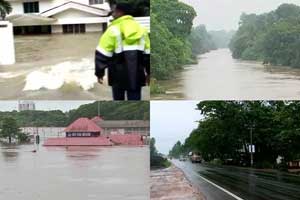 New Delhi: Union Minister for Health and Family Welfare Jagat Prakash Nadda, on Thursday, reviewed the relief measures undertaken in the flood-hit Kerala.
The Health Minister also spoke to the Health Minister of Kerala K.K. Shailaja and assured her of the continued support.
The officials briefed Nadda with the disease surveillance data in order to tackle any potential outbreak of epidemic-prone diseases.
In addition to the financial aid provided by the Government, it has also supplied 73 MT of essential emergency drugs; 1000 injections of Adrenaline vials; 2.25 crore Chlorine tablets (one tablet for chlorinating 20 L of water); 80 MT of Bleaching powder, and 4 lakh units of sanitary napkins to the state, besides 1000 litres of Cyphenothrin 5%, 500 kg of Diflubenzuron 25% and 250 litres of Malathion.
As per the additional request received from the state, 58 items of essential drugs/ consumables weighing about 120 MT, and 40 Ultra Low Volume (ULV) Fogging Machines have also been sent to the state.
The Central Government has also sent 30 specialist doctors, 20 general-duty medical officers and 40 Malayalam speaking nurses. The teams are expected to reach the flood-affected areas of Kerala by Friday.
12 public health teams, each comprising of 1 public health specialist, 1 microbiologist and 1 entomologist have been deployed to assist the state health department.
National Institute of Mental Health and Neurosciences (NIMHANS) in Bengaluru has come forward as they have deployed 40-member psycho-social teams (Psychiatrist, Psychologists, and Psycho-social worker), one team for each of the 14 districts for rapid psycho-social assessment and community based psycho-social care.
Kerala witnessed its worst-ever flood in a century in which at least 357 people were killed and over lakh were rendered homeless.